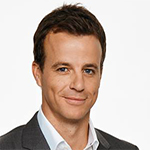 We are often reminded to worry about ourselves, and not others when assessing failure.

With that in mind, are our referee's all that bad?
Perth Glory and Melbourne Victory are the latest two clubs to be jumping up and down about officialdom.
Glory were bemused about the general performance in the loss to Central Coast, and Victory boss Kevin Muscat was annoyed Adelaide got a penalty because he thought Jeronimo dived (no pun intended).
I can understand each argument, but can't agree. Perth got a few calls as well – notably Jacob Burns; he was lucky the ref didn't see his one legged stand on John Hutchison, while Jeronimo didn't dive, Pablo Contreras needlessly clipped him.
Anyway, next week it'll be someone else, the week after, someone else etc etc.
Before the season, we at Fox had a visit from ref's boss Ben Wilson who was seeking improvement from his officials this season, most notably a rise in correct calls from assistants. Has he got it?
Probably not. Has it plunged to depths of despair? Probably not.
Somewhere in between, so that has led to calls for officials to go full time.
Firstly, the game can't afford that yet.
And secondly, will it ensure a 100 per cent success rate? No chance.
Just look to England. The most flush with cash league in the world. They have a full time squad – not just a few – a squad of 16 referees.
Last weekend in the Premier League, three big decisions were wrong.
Wayne Rooney should have gone for a stupid kick out against Cardiff, Kevin Miralles had to go for his late, high knee bash of Luis Suarez in the Merseyside Derby and Sunderland's Wes Brown was wrongly banished for a perfectly legit tackle on Charlie Adam.
All wrong, all affected the result.
It will continue to happen, regardless of where it is and how many full time refs a certain competition has.
Human error can't be avoided.