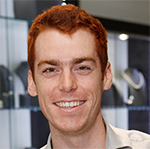 I am warming to the idea, more and more, of writing each week. When thinking about this week's column, colour came to mind.

Colour – one thing that makes our lives brighter and can change your mood instantly.
Colour is so exciting in the jewellery world. It represents who you are and portrays your personality.
There are many classic coloured stones that remain popular year after year. The vivid red of a Ruby and deep, ocean blue of a Sapphire, never fail to disappoint. These coloured jewels often become family heirlooms and are passed down through generations.
You can also be very creative with designing your own jewellery and incorporating different colours. Pink seems to be the "it" colour for this year.
A pink gem that is rapidly growing in popularity, is Morganite. It comes in gorgeous, soft, pink tones, that women all over the have fallen in love with. We are featuring Morganite in some of our latest statement pieces.
Morganite comes from the Beryl family. Emerald and Aquamarine are more recognisable stones that are also a part of this group of gems. I first discovered Morganite late in my apprenticeship and made a classic brooch that doubles as a pendant using it.
Tourmaline is a beautiful gem that comes in an array of fun colours. Rubellite Tourmaline in particular, is one that catches my attention. It comes from the Latin name "rebellus" which means reddish. A true Ruballite will look stunning, no matter what the light conditions.
This is the bold splash of pink that really speaks to your personality.
Pink diamonds, the real girl's best friend, is another pink stone that is hugely popular in our store right now. Our new Argyle Pink diamond collection is what everyone is talking about. I will spend more time on this next week.