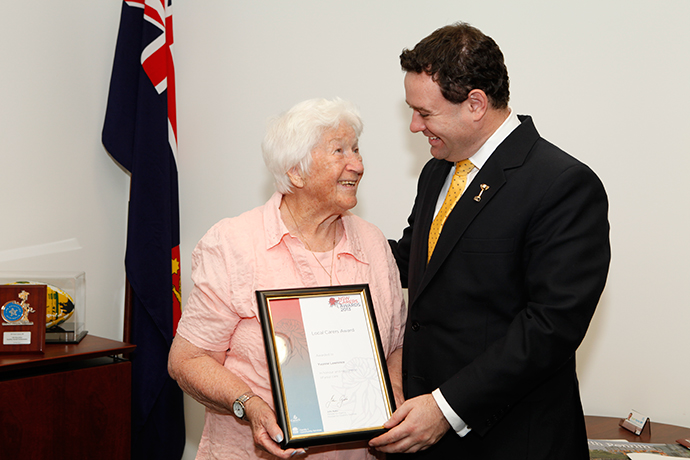 With modesty and a great deal of amazement, 86-year-old Yvonne Lawrence this week accepted a Local Carers Award in recognition of her dedication to the lifelong care she has provided her daughter.

Ms Lawrence has been the primary carer for her daughter Marie for the past 64 years, after she was born with an intellectual disability and cardiac problems, which often lead to her hospitalisation.
A life of work that shows an amazing amount of dedication is something that comes naturally to Ms Lawrence.
"It is so exciting because this has never happened to me before," she said.
"I care for her because of my love for her."
Dianne Chain, from Aging, Disability and Home Care NSW, has worked with Ms Lawrence for around four years and nominated her for the award.
"Yvonne has been a great inspiration and a great advocate for people with disabilities and that's certainly demonstrated in her care of Marie. She is a very well deserved recipient," she said.
"Yvonne has always been very tenacious and has always put Marie first, before herself and in times that she hasn't been well herself. She has always made sure that Marie has a good quality of life and makes sure that she is well supported."
Member for Penrith, Stuart Ayres, presented the award, part of the NSW Carers Awards, to the local senior.
"You represent what I would call the heart and soul of our community; people who sacrifice their own personal circumstances for others. When you do that for someone who is your own child, I think that would be incredibly special," he said.
"The dedication this requires is commendable and I congratulate and thank all carers for the important work they continue to do on a daily basis within our community."
When handed the award, Ms Lawrence was surrounded by members of her large family, made up of four children, including Marie her firstborn, five grandchildren, 10 great-grandchildren and one great-great-grandchild.