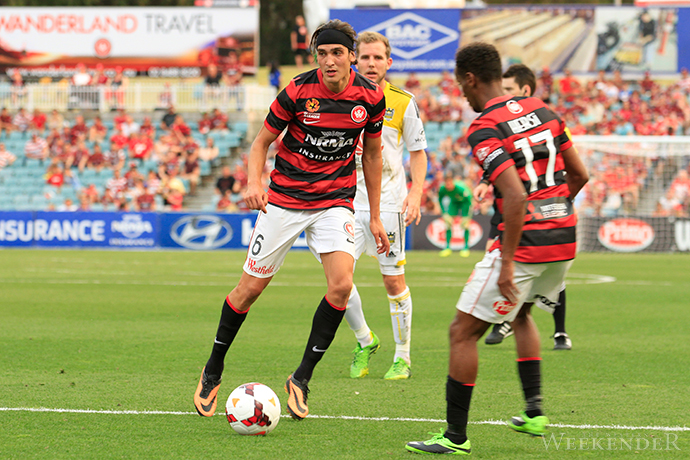 At the beginning of the season German import and Wanderers star Jerome Polenz vowed to improve on last season's goal scoring tally of zero and "score more goals this year".

Well, it didn't take the 26-year-old very long to make good on that promise after he scored his first goal after 27 games in Wanderers colours in round two against the Wellington Phoenix.
Since arriving from Germany in August last year, Polenz has been one of the stars of the 'Wanderers Show' and his trademark bandana has made him a fan favourite.
His strong defence and brilliant combination with Dutchman Youssouf Hersi was one of the key factors in the Wanderers going from nobodies to Grand Final qualifiers in the space of a few short months.
However, that all-important partnership between Polenz and Hersi would never be tested on one of the biggest days of their careers after the Dutchman was famously suspended from the 2013 decider.
Polenz described just how tough it was to not only lose the grand final but to play without his partner in crime.
"Of course it hurt us not having Hersi there when you see how well we played together throughout the season on that right flank," he said.
"I was running, Youssouf was on the inside, we were always working together. I think we were the strongest right side in the competition.
"We want to continue that partnership this season and do it better."
But after one of the hardest pre-seasons of his career, two burning questions remain: is the pain of losing the grand final still there and can the Wanderers be even better this season?
"We know why we lost. We weren't at our peak. We had many players that were not fit including me but that's not an excuse," he said.
"To be honest it was the hardest pre-season I'd ever had, much harder than last year but I think we will raise the bar again this year."