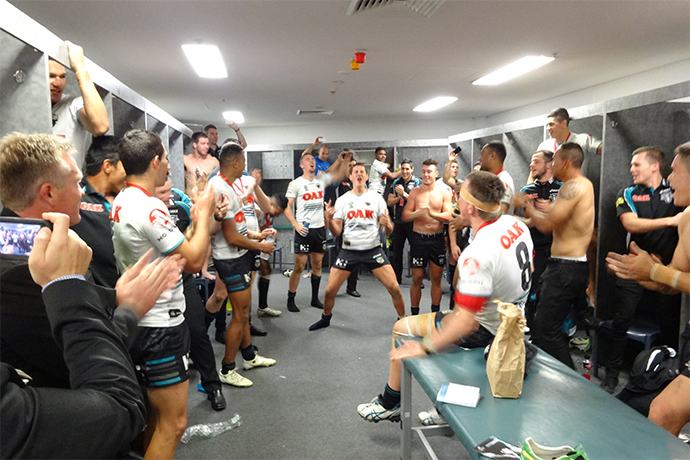 It was a scene of jubilation, emotion and relief after the Penrith Panthers won the Holden Cup Grand Final over the New Zealand Warriors last Sunday.

The Weekender had incredible access inside Penrith's locker room post-match to soak up the excitement of the players and even be a part of the side's sweetest of victory songs.
Panthers fullback Kieren Moss, who scored a try and was sin-binned during the 42-30 win, said winning a Holden Cup premiership was a dream come true.
"I'm lost for words, it's a bit surreal, I don't think it's actually sunk in yet… I look around and see everyone celebrating and still have to remind myself we just won a premiership," he said.
"I couldn't have done it with a better bunch of blokes. Everyone who I've played with this season has been really good and the boys stepped up today and the result showed.
"I've been with most of these guys for a while and all of these guys are really special players to me and my best mates, I couldn't be closer with these boys."
Panthers hooker Kierran Moseley, who only joined the club from Queensland this season, was outstanding during Penrith's finals campaign and was certainly at his best on Sunday.
"It's the best feeling ever," Moseley said.
"This side is a fantastic side all over the park, the boys know their jobs, do their roles and we work hard for our brothers."
Moseley admitted there was plenty of emotions running through his head during the Warriors' second half fightback.
"I didn't know whether to cry or whether to be angry or happy, I was just feeling nervous," he said.
"I think everyone was waiting for someone else to do the job instead of putting their hand up to make the change."
Panthers coach Garth Brennan, who incredibly never lost a game when in charge of the side all season, said it was a thrill to be a premiership-winning coach.
"We work so hard, you put a lot of passion and effort into it but I'm just really proud of the players, they've done the hard work and I'm just enjoying the ride," he said.
Brennan said he knew his side wouldn't give up despite the Warriors getting to within a try of snatching an unlikely victory.
"I know the culture that's in this footy team, it's probably one of the most impressive cultures I've ever seen in a football team, they work hard for each other," he said.
"I knew they wouldn't give up, I knew they wouldn't die trying and as soon as we got the ball back James Roberts turned the key for us and went the length of the field and we got the try."
Panthers boss Phil Gould was also in the sheds after the game and gave coach Brennan a glowing appraisal.
"I think he is an NRL coach of the future and is a very important part of what we are doing here," Gould said.
"His advancement will come over the next few years, he'll coach NRL for sure."
So while the Roosters and Sea Eagles were busy preparing for their date with NRL destiny, the young Panthers continued to party well into the night.