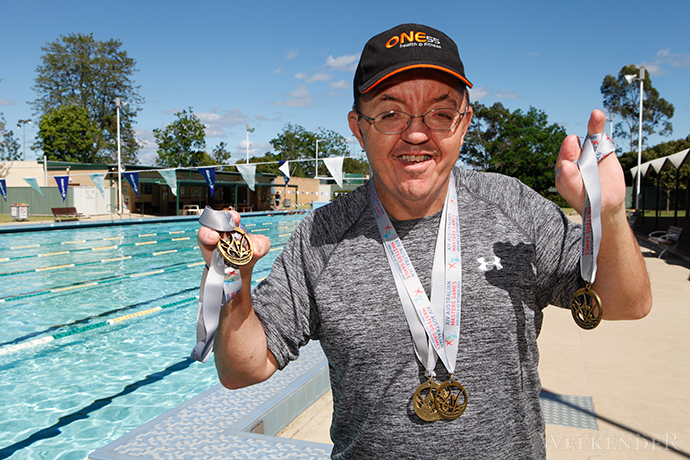 He goes by the name Jason 'Determination' Hooper but after recent results at the Australian Masters Games in Melbourne, perhaps his middle name should be changed to 'Superfish'.

Earlier this month the 47-year-old local swimmer, who was born with malformations to his hands and feet, returned home with a swag of gold, winning every event he entered.
"It was a fantastic experience and I met a whole heap of people," Hooper told the Weekender this week.
"I swam the 50m, 100m, 200m and 800m freestyle and won every event. I even broke my personal best time for the 800m freestyle in which I slashed two minutes off my fastest time."
What makes Hooper's golden haul even more remarkable is that he did it suffering a severe stomach bug, which almost derailed his entire campaign before it even began.
"The first race was the 100m freestyle but unfortunately I had a stomach bug the night before and I hardly got any sleep," he said.
"However I found the courage to man up and continued to race."
Hooper's track record at the Australian Masters Games is nothing short of inspirational. In four appearances he has won 25 medals from 25 events including 20 individual gold and five relay gold.
"I was confident going into this year's Masters but I knew I was going to be in for a hard time," Hooper said.
"You have to be mentally prepared otherwise you're going to get beaten. One bloke had 50 people cheering him on but I knew I had him covered because you can have a whole grandstand cheering for you but deep down the only person that can win the race is the person who is swimming."
Prior to the Masters Games Hooper was contemplating whether this meet would be his last but after his recent victories in the pool, he is now more confused than ever as to whether he should give it up or not.
"I think I was so motivated and pumped for the Masters this year because I was still unsure whether I'd be back next year or not," he said.
"I'm competing at the NSW Multi Class Championships at Sydney Aquatic Centre next Saturday where I'll go head-to-head with a rival who I haven't beaten in four years. This guy is nine years younger and I'm just getting sick of losing to him.
"Perhaps my future will be known next week depending on the outcome of next week's race."