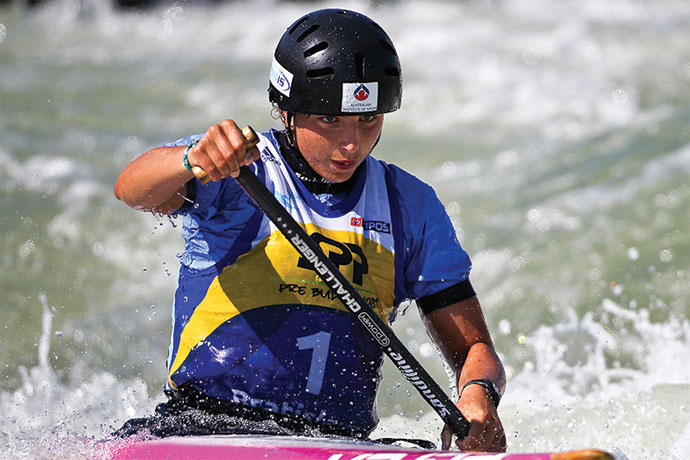 In the end it wasn't that Jess Fox became champion of the world that was amazing, it was the way she did it.
The Penrith 19-year-old showed maturity beyond her years to withstand the pressure that goes with pre-event favouritism and hype to claim the C1 World Title in Prague.
By nearly 13 seconds.
It was an incredible performance by the Olympic K1 silver medalist; especially given by her standards it wasn't a particularly clean run.
"I had a little wobble at gate 17, and I thought okay, stay upright, finish it off and keep it together," she said.
"I finished and I couldn't feel my arms, I couldn't even paddle up to the interview platform, so I definitely gave it all I had."
Australia's dominance of the women's C1, perhaps one of the reasons the rest of the world has been reluctant to embrace the campaign to have it added to the Rio program, was underlined by having three starters in the 10-strong final.
Ros Lawrence finished fifth, and Ali Borrows, on the eve of her 21st birthday, finished eighth.
The three teamed up later in the day to give Australia another gold, this time in the Women's C1 teams event.
Going into this weekend Fox had already stamped her name all over the C1. Four World Cups and the Under 23 World Title all added to her CV during the course of a European summer.
But as she lined up for the final it felt a bit strange.
"I was thinking on the start 'wow, I feel more nervous than usual'," Fox said.
"It's because this was the last one, the big one, and you want to put it out there and do the best you can. I just had to get the butterflies into flying formation."
And although she admits this win can't compare to the euphoria of an Olympic medal, she felt she had some unfinished business to tend to.
"For me, winning the C1 is a big achievement because I was the favourite. And I wanted to win it especially after the 2011 Worlds when I didn't get a medal, I blew it in the final," she said.
"For me I had to redeem myself, I had to show that I could pull it out, and that I was better than the last Worlds."
One of the key factors in Fox's win was her ability to tame a tough course. Nearly every competitor before her found herself in difficulty, but that didn't mean Fox could relax.
"You can never think that you've got it," she said.
"You have to work or you have to fight, and I definitely fought hard in that run. I had no idea what the other girls had done, but I knew what they were capable of."
Does a world title make all the long training sessions and the early mornings worthwhile?
"It definitely does," Fox said.
"Everybody does it, everyone's working towards the same goals. It's not sacrifices, it's more like choices we make.
"For me, I'm a teenager, I could be going out partying with people every weekend, but I've chosen to focus on sport because it's something I love doing. I get to come to Prague and race the World Championships and not many people get that opportunity."
There's no time to party just yet, either, with Fox, Lawrence and Sarah Grant all lining up in the semi-final of the K1 tomorrow.