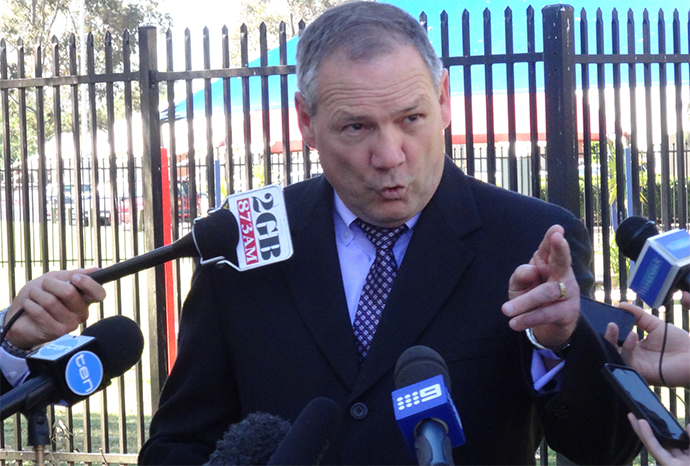 Panthers supremos Phil Gould and Warren Wilson have today responded to Sandor Earl's tell-all television interview last night, reaffirming their position that controversial sports scientist Stephen Dank was never an employee or paid consultant of the club.
Earl told The Footy Show last night that it was his belief that sports scientist Stephen Dank was an employee of the Penrith Panthers, and that he met Dank through the Panthers club.
Earl was stood down from the NRL last month after becoming the first player issued with an infraction notice for the use and trafficking of the banned drug CJC-1295. Allegedly under Mr Dank's guidance, Earl was injected with the peptide at a private clinic while recovering from a shoulder injury during his time with the Panthers in 2011.
Both Mr Gould and Mr Wilson today confirmed that Panthers paid invoices in relation to Earl's treatment at the private clinic.
Mr Gould told Fairfax Media today that the invoices were sent to the Panthers Group as opposed to the rugby league club, and were marked overdue. They were paid during a frantic financial period for the club, and under a previous management structure.
"The invoices themselves wouldn't have raised alarms at the time… they weren't for an exorbitant amount of money," Mr Gould said.
The Panthers didn't discover that the invoices related to Earl's CJC-1295 injections until some time later, and Mr Gould says the club alerted the National Rugby League's Integrity Unit as soon as the situation became clearer.
"Nowhere in our records can we find any evidence that Stephen Dank was ever an employee or a paid consultant at the club… or that there was any other commercial dealings between Stephen Dank and the club," he said.
"Stephen Dank did not hold an official position at the club… that's not to say obviously that he didn't visit the club on several occasions."
At a press conference at Penrith headquarters this afternoon, Panthers Group CEO Warren Wilson said the club did not approve of the treatment Earl undertook.
"This club did not, to the best of my ability, actually endorse or recommend the course of action that he (Sandor Earl) took, he said that himself last night," Mr Wilson said.
"Dank said 'don't tell the doctor, don't tell anybody, let's go off-site', and then a few minutes later he (Earl) said the club should've known. You can't have one without the other."
Mr Wilson confirmed that the Panthers had overhauled their rules in relation to treatment and payments.
"Since I came in and taken this position we have set up a brand new set up rules and no one is allowed to get any treatment from any organisation without the sanction of our club doctor, and our club doctor must sign all the invoices for all of the treatment," Mr Wilson said.
Mr Wilson said it was his understanding that Mr Dank was at Penrith for about a half a dozen occasions.
"Dank came up in late 2010 and early 2011 and was pushing a hypoxi, which is oxygen training equipment. That was what he trying to push to the club but the club rejected it," he said.
Last night, Earl told The Footy Show that he was introduced to Stephen Dank at the Panthers.
"I met with Stephen Dank at the facility where we train and I was introduced to him by our strength and conditioning coach," Earl said.
Earl claims that strength and conditioning staff described to the team that Mr Dank was "helping with our programs".
Earl claims that he spoke with Mr Dank at training about his troublesome shoulders.
"He was telling me of things that he could do to reduce my injury time by three months," Earl said.
"That conversation also included talk of amino acid proteins, or peptides, and in turn he sort of said the ways it can be done, the ways it can be used, success he's had before, and that's what he'd like to do with me."
Earl claims he asked Dank if he was doing anything wrong.
"He assured me on a number of occasions that nothing was banned," Earl told Nine.
"I had to assume, why would this person be employed to hand out illegal substances? It would make no sense."
Earl added: "There is no doubt in my mind that the coach and the coaching staff knew that he was at training and at the club".
The Weekender makes no suggestion that there has been any wrongdoing by any staff or other players at the Panthers club.
In his interview on The Footy Show, Earl claimed that Mr Dank had told him that he had used CJC-1295 at other NRL clubs.
Earl also claims Mr Dank was with him at the private Cabramatta clinic where the CJC-1295 was injected, and that Mr Dank supplied the peptides.
"I take full responsibility for what's happened and what is going to happen, that's no problem, but was I a victim of someone who abused his power and trust? Yes, I was," Earl said.
Earl's mother Jan was also interviewed by The Footy Show. She said her son "has lost everything".
"It was like my world had come to an end," she said of the news last month regarding Earl's infraction notice.
"A lot of people don't know about Sandor. He keeps a lot of emotions hidden. He's a very good son, he's helped me tremendously… he's not an elite player on hundreds of thousands of dollars, he's a boy who has worked hard and people need to know the real Sandor Earl – not the underwear model, not the good looking Gen Y kid – they need to know the boy behind it."