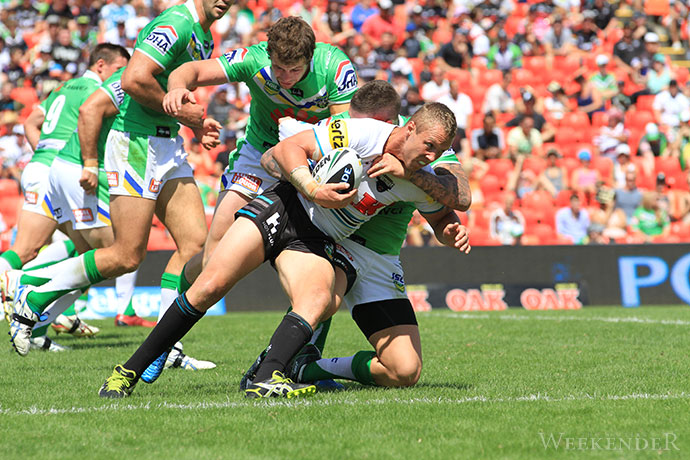 There's perhaps no more grateful player in the NRL than Penrith second-rower Nathan Smith, who earned himself a new one-year deal this week.

After being on the outer at the club for most of the season as well as being told he was not wanted for next year, Smith was resigned to the fact that he'd have to play out the rest of his Panthers career in NSW Cup.
However, after a recent string of solid performances in the NRL plus a professional attitude to boot, Smith was rewarded with a new contract the morning of Penrith's big win against the Broncos.
"I was initially told I wouldn't be here next year, so I'm glad they did change their mind because I always wanted to stay," Smith told Extra Time.
"This year has been majorly frustrating because I didn't really expect to get another start before the end of this season, so to be back in first grade is awesome."
After starting the season with the Panthers, Smith admits his form started to drop, forcing coaching staff to demote the 30-year-old to the NSW Cup where presumably he would finish his season.
"It's alright over in Windsor and it certainly helps when you're winning," Smith said.
"It can be tough there because you play at 6pm on a Saturday and the light there is so bad you can't see a thing, that part of it is hard. But you're still around the boys that you see every day so that makes it easier."
Smith admitted he felt a tad envious knowing he had what it took to play NRL again but at the same time didn't want to get in the way of the up and comers of the game.
"The blokes that went into my spot played awesome and they deserved to be there," he said.
"I did that to a couple of guys when I first started as well, so that's just the way it goes."
Smith's recent signing was also a blessing for another reason.
For 18 months Smith has been working as an apprentice electrician with local company HIX Group. Smith said the new deal will now allow him to finish his trade.