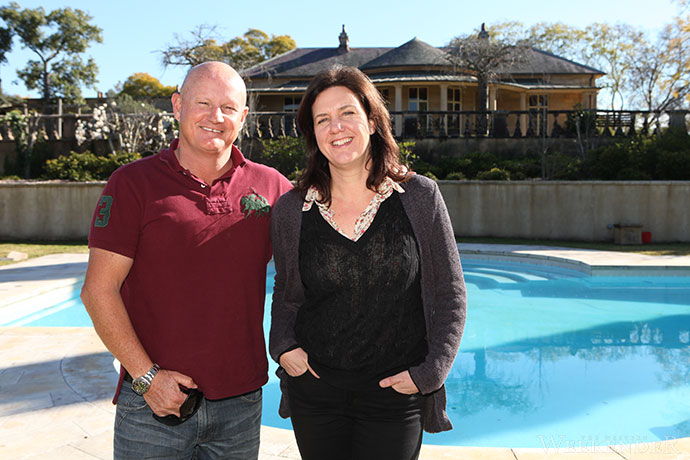 The Fernhill Estate in Mulgoa is rich with national and local history, but has been locked away with burgeoning debts plaguing its former owners.

But, the winds of fortune are about to change at the 1,800 acre heritage homestead, with owners Brenda and Simon Tripp hopeful of implementing a long term masterplan to secure the property's financial woes.
Presenting to Councillors on Monday evening, Mrs Tripp said that her family is passionate about opening the doors to the property, which dates back to a 1810 grant to William Cox, so all can enjoy the beauty of Fernhill.
"We don't want to be the next casualties of Fernhill, we want to open up the gates because we believe we have the vision and energy to ensure it becomes the Fernhill of the future," Mrs Tripp said.
The family were initially drawn to the historic home because of their equestrian ties but realised Fernhill has even greater potential.
"We initially were interested in the property for our horses, but fell in love with the house and decided to relocate here," Mrs Tripp told the Weekender.
"It would have been nice to take a year to settle in, but we do not have that time as Fernhill is very expensive to maintain and so we have already started holding events as a necessity," she said.
The masterplan documentation, which is currently before Council details a multi-pronged approach to Fernhill; using it as a private residence, hosting minor events such as weddings, a handful of larger events and partially subdividing the property.
Fernhill was the site of the Tough Mudder competition competition earlier this year, and runs a function centre for corporate and wedding receptions.
There are plans in the pipeline for Fernhill to host the Melbourne Cup Tour in October, given its equestrian centre has trained two Melbourne Cup winners, and a Picnic Race Day in November.
Apart from hosting major events, the owners of Fernhill are also looking to subdivide 200 acres of the property to reduce some of the debts left to them by the previous owners.
"The subdivision planned is far smaller than what has previously been proposed by former owners and would not affect the vista and character of Fernhill," Mrs Tripp said.
Mr and Mrs Tripp said they had already spent "a small fortune" on the property – over $1 million – to restore it to its former glory.
"Just to give an example there is 20 kilometres of fencing and the most expensive form of fencing possible. We employ a full-time fencer, and 24 staff," Mrs Tripp said.
Mr Tripp added that the cost of the property is roughly $1 million a year.
Penrith Council will continue to work with the Tripp family to see a masterplan implemented for the historic estate.
Several Councillors thanked the family for their genuine passion to revive a piece of Penrith's history.