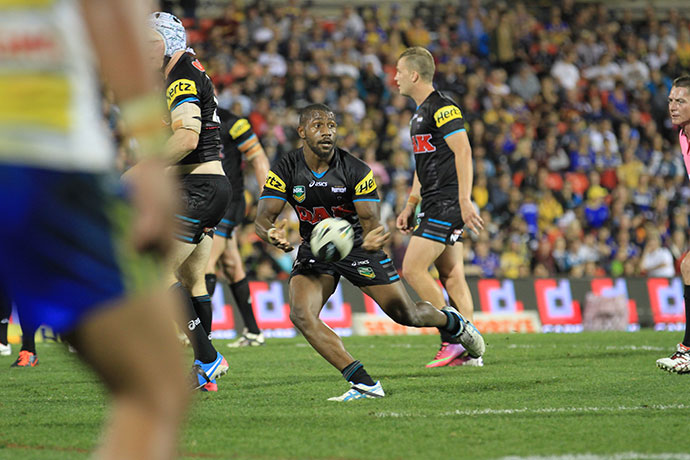 It would be easy to look at last weekend's game against the Roosters and simply believe that Penrith didn't turn up, or were totally outclassed.

The truth is, however, that the Panthers tried their guts out. Unfortunately, the club's injury crisis just won't go away, and in fact seems to only get worse.
It would now seem evident that Penrith will limp to the end of the season, count their losses, and put their focus totally into 2014 while other sides battle out the finals.
If, however, Penrith are a hope of playing finals football, then they need to win matches like this one against the Cowboys on Sunday. In fact, I predict they'd need to win all five of their remaining matches.
COWBOYS FIND FORM
After struggling all year and telling their coach Neil Henry he won't be required next season, the Cowboys somehow found some form last weekend, beating top of the table South Sydney at 1300SMILES Stadium – a venue where very few smiles have been worn by home fans this year.
The Cowboys produced their best win of the season, and it's unfortunate for Penrith given the confidence they would have taken from it heading into this weekend's clash at Penrith Stadium.
Nobody has ever denied that the Cowboys have the cattle on the field to rattle most sides in the competition, and ably led by Johnathan Thurston last Saturday, they finally showed what they're made of.
There's little doubt that if the Cowboys turn it on, they'll give Penrith a massive run for their money this weekend. They'll be out to prove to their fans that their performance against Souths was not a one-off.
COMINGS AND GOINGS
With Adam Docker and Sika Manu suffering long-term injuries and James Roberts out as well, the stocks are pretty thin at the Panthers, hence the recall of Geoff Daniela into the centres and Nathan Smith onto the bench.
Smith is off-contract at the end of this season, and still without a club, so nobody will deny the fact that he'll try his guts out this weekend in an attempt to impress 15 NRL coaches that he's worth some of their remaining salary cap for next season.
Daniela's defence and speed is a worry, and he'll need one hell of a game to stop the Cowboys' powerful backs.
SUNDAY NIGHT FOOTY
The last time Penrith played on a Sunday night, they beat the Melbourne Storm.
Could it be an omen for another Sunday night win?
The Panthers have done their best to create cheap ticketing deals for this game as the Sunday night timeslot is not a friendly one for suburban footy – it's a school night, and most people would rather have their kids getting ready for bed than out at Penrith Stadium on a chilly night.
The boys do, however, need our support – so why not make an exception and let the kids stay up just that little bit later?
With the Cowboys in the bottom half of the table and not bringing a lot of away support, it'd be horrible to see a low crowd given the Panthers do still have a realistic chance of reaching the eight.
Mount Everest may await the Panthers, but it all starts with one step. You should be there for that step.
THE FINAL WORD
I was much more confident about this game being a victory for the Panthers before Docker and Manu got injured, and before the Cowboys took a sledgehammer to the Rabbitohs last weekend.
I still believe Penrith can win, but I think it'll be a close contest that could go down to the wire.
The Panthers must aim up in defence as the Cowboys are fast and strong out wide.