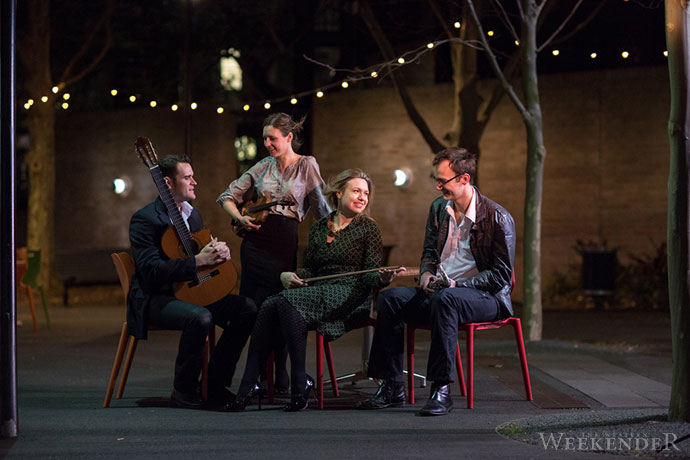 Marianna Ensemble are set to move the audience with their stunning music when they present their latest concert.

The award-winning Sydney based group will perform 'Historia De Un Amor' – A Story of Love at the Joan Sutherland Performing Arts Centre on Sunday, July 28.
Made up of talented musicians from both Russia and Australia, the Marianna Ensemble is an art-music quartet who are experienced in performing lively arrangements of jazz, classical, opera, folk and contemporary music.
Their emotional concert 'A Story of Love' uses beautiful and classical Gypsy, Russian and European love songs including Historia De Un Amor, Dark Eyes, Habanera and Kiss of Fire.
The rich musical arrangement will be accompanied by Australian champion ballroom dancers, Vladimir Okunev and Adelina Abushaeva who will impress with their passionate movement.
These skilled dancers will perform original choreography to the Marianna Ensemble's music and will be dressed in dazzling, finely designed costumes to match.
The Marianna Ensemble has a reputation for creating awe-inspiring music and has frequently featured in ABC Classic FM live and recording broadcasts as well as performing regularly at major Australian jazz and world music festivals.
Vocalist Maria Okunev, who also plays piano and guitar, was previously the Director of Music with the Australian Youth Choir between 2004 and 2008 and is a recording artist with the ABC.
She has been chosen as a finalist in numerous national opera awards, won the Mietta Award and has starred in several major operatic roles in Australia and internationally.
Anna Okunev is considered one of Australia's most versatile violinists and has performed nationally and internationally, while guitarist Blake Keep has toured with major jazz and world musicians including Lulo Reinhardt, Preston Reed and Chilean brothers Martinez.
Richard Savery, who plays the clarinet and saxophone, has toured extensively in the UK, USA and Caribbean Islands and performed with artists including Alan Cumming, Lance Horne, Phil Stack, Tim Davies and Amanda Palmer.
The Marianna Ensemble will perform ' Historia De Un Amor' – A Story of Love at the Joan Sutherland Performing Arts Centre on Sunday, July 28 at 3pm. Tickets are $20 to $30. For bookings or more information, call 4723 7600 or visit www.jspac.com.au.