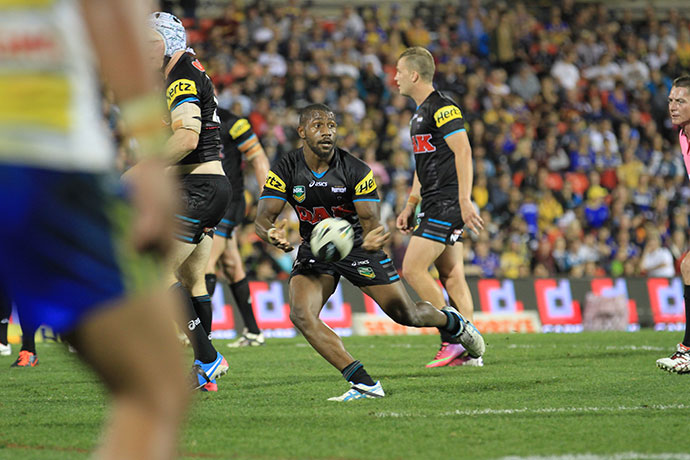 The Penrith Panthers find themselves in unusual circumstances this weekend as they travel to Darwin to take on the Gold Coast Titans for the second time this season.

Earlier this year, the Titans beat the Panthers in a game that Penrith dominated in parts, but couldn't take control of. It was one of a few games this season that the Panthers should have been able to emerge victorious from but somehow snatched defeat from the jaws of victory.
Much has changed since that round four battle and this weekend's game looms as an important one for both sides.
For the ninth placed Panthers, a win will ensure they finish the weekend inside the top eight given the seventh placed Bulldogs and eighth placed Knights play each other. It would also see them join the Titans on 18 points, and at worst would see them finish the weekend just three points adrift of the top four.
For all of those reasons and more, this weekend is incredibly important.
The Titans, too, have plenty to play for, not the least of which is their pride after they were demolished 46-16 by Newcastle last weekend. A better second half showing couldn't hide an embarrassing first half that saw the Titans down by a whopping 36-0 half time.
Worse than the scoreline was the leg injury suffered by rampaging centre Jamaal Idris, who will miss the rest of the season.
Penrith won ugly last Saturday against the Dragons, and were probably lucky to be in front at half time after a rather scrappy first half in which they constantly gave the Dragons an opportunity to punish their mistakes. However, the opposition was poor, and Penrith's defence was tough.
Importantly, the Panthers would have got a lot of confidence out of their second half performance and the win in general, especially considering an injury toll that just seems to get constantly worse.
The Titans will certainly offer more in attack on Saturday night than the Dragons did last weekend, and Penrith's defensive performance will need to be better, too. Yes, the Panthers only conceded two tries in the game but one gets the feeling that the Gold Coast have much more up their sleeve in attack than the Dragons.
Brad Tighe and James Roberts will need to defend much better than they did last weekend and Roberts will need to position himself better when it comes to bombs – he is a liability in that area and, to be honest, would probably make a better centre than a winger for that reason. Either way, his blinding speed will be something to admire when he gets into the clear.
The Titans would be much better served in bombing Roberts and putting him under pressure than they would the ever-reliable David Simmons.
The X-Factor for Penrith remains livewire replacement hooker James Segeyaro. His performance last weekend seems to have made the rest of the rugby league world stand up and take notice, and the lovable youngster is now being regarded as the signing of the season by league experts.
Whilst it took the plan a while to come to fruition, I think most would agree that having both Segeyaro and Kevin Kingston on the field at the same time has been a surprising success. It is a winning formula and certainly causes some issues for defending teams.
With Tim Grant having one last chance to prove to NSW selectors that he is worthy of his Blues jersey, and Mose Masoe in rampaging form, there's every reason to believe the Panthers can beat the Titans this weekend.
But there can be no denials that they will have to improve immensely on their performance last weekend if they are going to get the two competition points that are up for grabs.