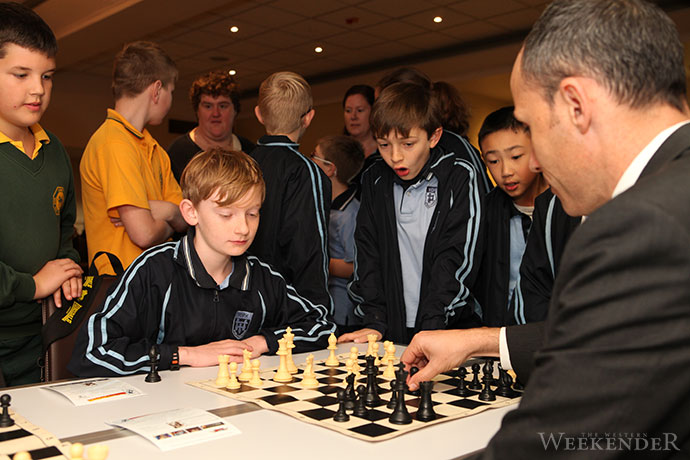 The excitement was at fever pitch and the concentration intense, which can only mean one thing – the annual Inter-Schools Chess Tournament has come to town.

This year's Inter-School Chess Tournament, now in its sixth year, featured a whopping 36 primary school teams and 29 high school teams from all over Penrith and western Sydney.
The two-day tournament held at Penrith RSL opened on Tuesday morning with 144 primary school students going head-to-head in an all-time thriller.
Federal Member for Lindsay, David Bradbury, opened this year's tournament before proceeding to a game of chess with 2012 Primary School's champion, Ethan Marlow.
The Year 6 York Public School student and Mr Bradbury were in deep concentration mode for 20 minutes, going back and forth before Mr Bradbury levelled his much younger opponent.
"It was very fun, he was a hard opponent," Ethan said.
"He was quite difficult compared to the people I've played against."
Ethan said the key to being a good chess player was patience.
"In chess you've got to be very patient and think about what you're going to do next," he said.
Former President of the Penrith RSL Chess Club, Frank Rosser, who originally started the Inter-Schools Chess Tournament six years ago, said it was pleasing to see the great 'mind game' grow.
"We started off with just 69 players, now we have more than 300 competing," he said.
"Chess teaches kids to think, to think for themselves. There's no referee, no umpire, no trainer – it's just pure one-on-one and that's it."
The event ran across two days at Penrith RSL.