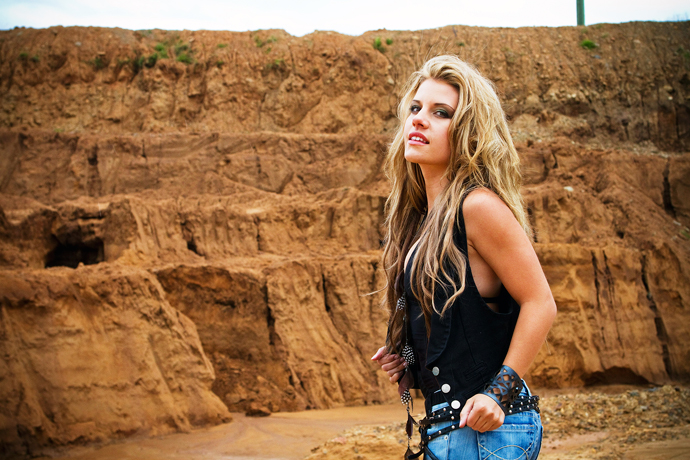 Country songstress Jasmine Rae will be launching her latest album 'If I Want To' at Rooty Hill RSL on Saturday, August 3. We caught up with Jasmine ahead of the event to talk about music, life and her devoted fans.

You first came into the spotlight five years ago when you released your debut album. How much do you think you've changed since then?
I think lots changes over time, you grow as an artist as time goes on and as you experience different things in life and the more shows you do. I kind of wrote this album around some experiences I was going through at the time but also around the kind of show I wanted to do, what kind of live show I wanted to have so I think it's changed quite a bit but I'm also being very true to who I am.
What is the best advice that anyone has ever given you?
I think a lot of people say it but it's really true, just staying true to who you are and being open to learning lessons about the kinds of things you want to do, and the kinds of music you want to make and what you want to say to your fans and to music fans in general. I think what really makes the difference for me is I have people around me who would support me no matter what I was doing, whether I was a musician or not so having that makes it much easier to be true to who I am.
A couple of the songs on the album deal with relationships and men. What inspired you to write those and was it based on personal experience?
There was a few observations, wondering why I chose the people I chose to be in relationships with but it's more just about feeling powerful as an individual in a relationship so both 'Bad Boys Get Me Good' and 'If I Want To' come from a place of feeling more in control of what you want out of life and yourself and just kind of celebrating that.
On your latest album, you got the chance to work with some amazing country musicians such as Kellie Pickler and McAlister Kemp. If you could perform with any musician, alive or not, who would it be?
I'm actually quite chuffed that I got to work with Kellie Pickler for this one but a few of the songs have been inspired a little bit by a Johnny Cash kind of vibe. Once upon a time, I would have loved to work with him so if we're going to talk about hypotheticals I guess it would be him.
Can you remember any music that had a major impact on your life when you were younger?
Listening to some Dolly Parton songs when I was younger, I loved the lyrics of them. And I also remember a Chely Wright song called 'Shut Up and Drive', I remember listening to that when I was 10 or 11, I loved the emotion inside the song because I've always been really into poetry and lyrics so it really spoke to me.
What has been the most challenging time in your career?
When writing this album, my dad was diagnosed with cancer so I was caring for him while I was writing this album and he passed away a year ago. He was one of my biggest supporters and one of the reasons that kept pushing me to do what I wanted to do and so I thought after he passed away that I wouldn't be able to write anymore because he'd listened to every song I'd ever written. It was writing 'First Song', a track on this album, that really helped me to discover that writing is therapy for me and it's something my dad would have wanted me to do because I love it.
You have a lot of devoted fans who you keep in contact with at shows and on social media. What is the nicest or most interesting fan encounter you've had so far?
We sign at the end of every show and I was on tour with Lee Kernaghan and everyone was taking off their boots for people to sign. This really lovely girl was like, 'I'll take it off' and pointed to her boot and I was like 'oh okay sure, so I don't have to bend down' and she took off her entire prosthetic leg and handed it to me and wanted me to sign that. And I was like 'oh my goodness', so my signature is now on her leg forever because it was in permanent marker so that was something I wasn't expecting from a fan.
What is an average day in your life like when you're not busy touring?
Every day is quite different because I'm in a different city for most of the time, I'm not always home. But when I'm at home in Melbourne, I have a dog who I adopted about a year ago now and she's a border collie/kelpie cross so I spend time with her or with my family, I have two little nieces. I really enjoy doing that, that's something that's pretty special for me.
Jasmine Rae will launch her album 'If I Want To' at Rooty Hill RSL on Saturday, August 3 at 8pm. Tickets are $12 for members or $15 for visitors.
For bookings or more information, call 9625 5500 or visit www.rootyhillrsl.com.au or www.jasminerae.com.au.