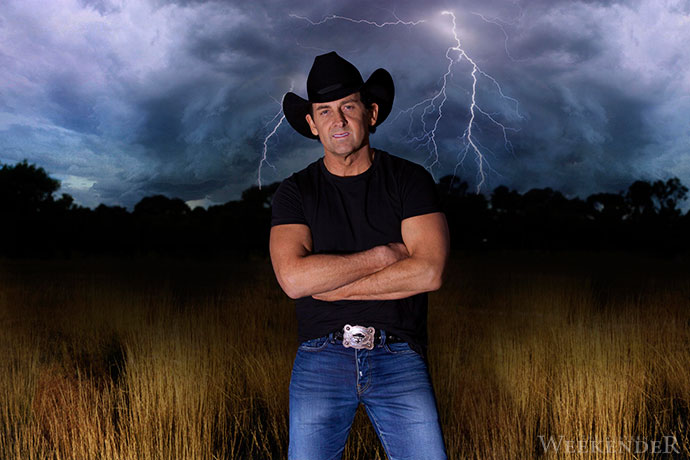 In the Australian country music scene, you'd be hard-pressed to find a bigger name than Lee Kernaghan – he's got 33 number one singles under his belt, 28 Golden Guitar Awards and even won Australian of the Year in 2008.

Yet despite the stratospheric levels of success Kernaghan has achieved himself, he is more than happy to make way for the next generation of country superstars and is currently on the road with The Wolfe Brothers.
Kernaghan surprised the up-and-coming Tasmanian band by inviting them on his Beautiful Noise tour, which will be coming to Penrith's Evan Theatre on Friday, August 9.
"It was their performance on 'Australia's Got Talent' that really knocked me out and when I got to have a bit of a jam session with the guys, we just connected musically in a really great way and I invited them to join me on the 2013 tour as special guests," Kernaghan said.
While he may be mentoring younger musicians now, once upon a time it was Kernaghan who was receiving advice from a seasoned expert – the late, great Slim Dusty.
Kernaghan met the country music legend in a chance encounter over a decade ago, and was inspired to write his song 'Flying with the King' about it.
"I wrote that one about a real life experience I had back in the late 90's, I got on a flight from Sydney bound for Western Australia and when I got to my seat I realised I'd be sitting next to the king of country music, Slim Dusty. So for five or six hours, we flew across Australia together and told yarns all the way and the memories of that flight have now been turned into that song, 'Flying With the King'," Kernaghan said.
He has also paid tribute to Dusty with his recently released version of the 1972 song 'Lights on the Hill', a rockier cover that he recorded with The Wolfe Brothers.
Fans know Kernaghan as a straight talking, guitar slinging country boy but would be surprised to know that the first instrument he learnt was actually piano, which he took up on the advice of his mother.
"I started learning piano and before too long, I started writing songs and singing and then I had a band… by the time I got to 17, I realised that the only thing I was qualified to do was play music, so it became my career," he said.
His style also changed, from his early songs that were heavily influenced by American music to the patriotically-themed lyrics he has become famous for.
"I had a pretty strong twang in my voice because I grew up loving American country but when I made my first album 'The Outback Club', my producer Garth Porter said, 'Lee, you know you should be proud of who you are and proud of your country and where you come from so I want you to write songs about Australia and your upbringing and way of life'," he recalled.
His producer's advice put Kernaghan onto a winning formula, and it is one that he has stuck with over the years, with his song-writing methods inspired by stories he hears from everyday Australians.
"The inspiration really comes from Australia and our people and our way of life," he said.
"On my iPhone I keep a list of songwriting titles and I'm always writing out another title and when I start songwriting for an album, I usually have a couple of hundred of ideas to work from… most of them are rubbish but hopefully there's a little bit of gold amongst it all."
The country singer has also demonstrated his devotion to his country through his charity work, helping drought-affected families in rural areas.
His efforts earned him the prestigious title of Australian of the Year in 2008, but Kernaghan has remained humble about his accolade.
"For me, that Australian of the Year award was not so much of an award for me but more of a recognition of the country people and I'm glad to have played just a small part in all of that," he said.
Despite all the records he's sold and awards he's received, Kernaghan refuses to rest on his laurels and instead tries to give his best at every performance.
"You know there's just been so many highlights over the years but you're only as good as your last show so for me, I want to put on the greatest show that I can," he said.
Lee Kernaghan will bring his Beautiful Noise tour to the Evan Theatre, Penrith Panthers on Friday, August 9 at 8pm. Tickets are $49.50.
For bookings or more information, visit www.penrith.panthers.com.au.