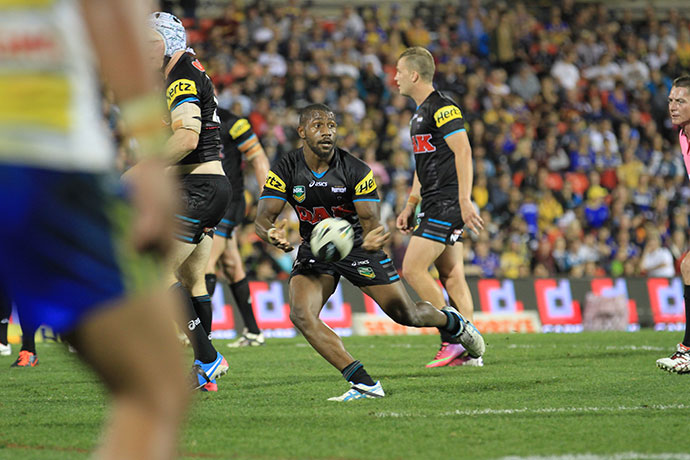 Penrith excitement machine James Segeyaro has declared he's ready to be an 80-minute player next year, if current starting hooker and captain Kevin Kingston leaves the club as expected.

Segeyaro has started off the bench for the Panthers all season but said he's always aspired to take on a full-time role.
"Being a consistent first-grader is something I've always wanted to work towards my whole career," he told Extra Time.
"It's unfortunate that the club doesn't want Kevvie because he's a great leader and a great captain but I would've been all for it if the club did still want him.
"Unfortunately that's the game these days, that's the way it is. I'm happy if Ivan and Gus have trust in me to be the '9' next year."
The 22-year-old former Cowboy has been Penrith's stand-out performer after 13 rounds but admitted his side were "out-enthused" during their narrow 20-18 loss to the Wests Tigers last Sunday.
"Every ball that was dropped the Tigers were jumping on it, they were really enthusiastic," Segeyaro said.
"I think we just thought they'd go away but they just kept coming and then at the end they got us in that defensive lapse."
Going into the game the Panthers were flying high, having won three in a row with defence being the key in those hat-trick of victories.
The Tigers on the other hand were said to be a mess – down on form, down on troops – and according to Segeryaro, the Panthers believed that too.
"We didn't have enough respect for them," he said.
"We just have to put that game behind us and keep up the momentum we had over the last few weeks."
Segeyaro believes the late withdrawals of boom fullback Matt Moylan (salary cap) and prop Tim Grant (broken hand) didn't affect their psyche going into the match.
"Not really, we've got players, our depth is first class – our second grade team could play first grade," he said.
"What happened to Moylan was very unfair, I never knew that rule existed, it's an ancient rule. The NRL need to brush it because it half ruins our chances. He's a young, great prospect that's been killing it."