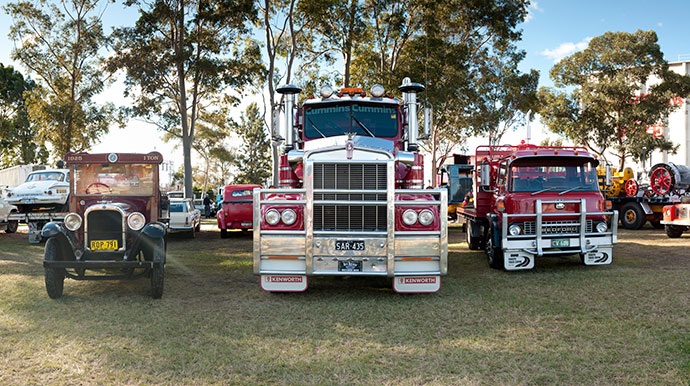 Anyone who loves vintage automobiles should get ready because the third Annual Sydney Classic and Antique Truck Show is coming back to Penrith.
Truck lovers will be able to enjoy themselves at the show, which will come to the Museum of Fire on Sunday, June 16.

A wide variety of beautiful, classic vehicles will be on display including trucks, buses and fire engines from yesteryear.
Join in and walk into a world of amazing nostalgia with trucks from throughout the last century – from the solid rubber boneshakers of 1914 all the way through to the kings of the highway of the 1960's and 1970's.
There will also be chances to get interactive and take a step back in time on one of the vintage double decker bus rides, giving people the chance to see Penrith from a different view.
As if that wasn't impressive enough, the show will also be hosting a circus theme this year with a display of gorgeous well-restored wagons and vehicles that were used in the Bullen's Circus in the past.
Truck nuts can also feel free to bring family and friends along without worrying as the show has something for everyone.
Fire and Rescue NSW will be showing displays and holding live fire demonstrations of their Kitchen Fire Simulator, which perfectly complements the fascinating displays from the Museum of Fire.
In between admiring the beauty and power of the trucks on display, show-goers can also enjoy the non-stop entertainment on stage with performances by a range of acts.
The outrageously funny Buddy Goode will have audiences in stitches, while talented singer Alisa Gray will wow with her rich vocal styling; and local group The Shuffle Boys will get the crowd pumping.
There's also the unbelievable performance from Australia's best ventriloquist, Darren Carr, and the grooving music of David Cazalet who will present 'The King in Concert', his own personal salute to superstar Elvis Presley.
With classic trucks, classic entertainment and heaps to see and do, this truck show is bound to make for a great family day out.
The third Annual Sydney Classic and Antique Truck Show 2013 will be held at the Museum of Fire in Penrith on Sunday, June 16 from 8am to 3pm. For more information, visit www.museumoffire.com.au or call 4731 3000.