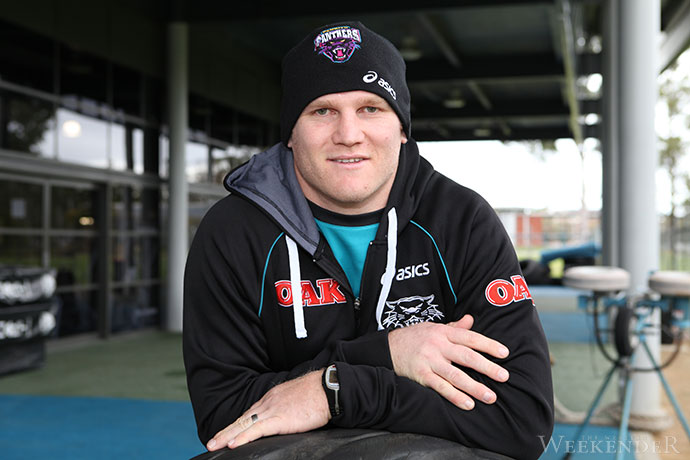 Newly re-signed Panther Nigel Plum was just hours away from leaving the club to move to England, he's revealed to the Weekender.

The popular prop was so close to joining English Super League club Hull KR that he and his wife were looking at homes in the north of England to raise their two young kids in.
"A couple of weeks ago on a Monday morning I was all set to go to England but by that afternoon we were staying here," Plum said.
"My wife and I convinced ourselves that we were off to England and we were looking at places over there. I was talking to a few players at the club asking them about the area and what it was like living over there."
Had Plum gone to Hull KR as expected he would've joined some very familiar faces including former teammates Travis Burns, Michael Dobson, Lincoln Withers and Mickey Paea.
Plum said Penrith was always his first preference, largely due to a certain milestone he hopes to reach by the end of his career.
"It's a long way off but the opportunity to play 100 first grade games for Penrith was something I've always wanted to do, and to be given that opportunity to do so was hard to knock back," the 30-year-old said.
"I'm currently at 50 games, so I'm halfway there. It's still a long way off but that did play a part in the decision to stay here as opposed to giving up the opportunity to live in another country and experience another world."
Plum said the decision not to go to England was a tough one because he knows he'll never get another opportunity to play rugby league overseas again.
"We knew our chance to go to England was this contract or not at all pretty much," he said.
"In a couple of years time my daughter will be starting school, so we didn't really want to be heading there after this next contract.
"It was a tough decision to not go to England because of the opportunity it presents itself living over there but I think the number one factor for me was the chance to play 100 games for Penrith, which is what I want to do."
Plum has been in career best form this season, playing all 13 games and forming a brutal tackling partnership with young gun Adam Docker.
Plum believes his consistent form this season lead to him earning himself a new two-year deal.