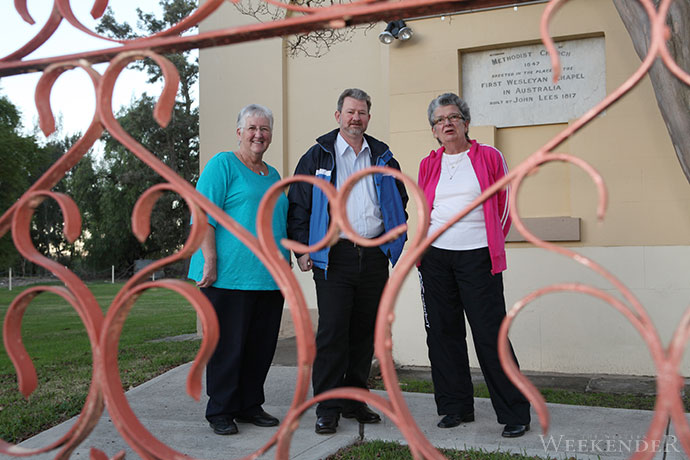 A piece of Penrith's rich history could be lost forever if the Penrith Lakes Development Corporation (PLDC) is allowed to proceed with plans to quarry land at Birds Eye Corner on Old Castlereagh Road, claim local historians.

PLDC is looking to close off access to the end of Old Castlereagh Road, in a bid to facilitate further quarrying activities.
However, Beth Moore, Secretary of the Nepean District Historical Society, said that so much of Penrith's history has been lost to the gravel quarry and could not bare to see the last remnants of old Macquarie town 'Castlereagh' be destroyed.
"We think that the plan is an absolute outrage," she said.
"Birds Eye Corner is one of the original land grants dating back to 1803, older than the Great Western Highway."
Old Castlereagh Road is the original access point to a number of historical sites including the oldest Wesleyan Chapel in the Southern Hemisphere and its graveyard; the Upper Castlereagh School house and its First World War monument; and Nepean House and Hadley House.
Ms Moore said that the lack of access to McCarthys cemetery is evidence of what will happen to these other historical sites.
"To visit McCarthys you need to ring up and make an appointment, a booking, because the cemetery is locked away in the middle of the quarry," she said.
"Why do they have to have the last little bit left of our history?"
Penrith Councillors Jackie Greenow and John Thain share the Historical Society's concerns.
"It really is a concern what has been done to McCarthys, it is so difficult to access, we don't want to see the rest of our heritage locked away," Cr Thain said.
"The Bicentenary of the crossing of the Blue Mountains really has cast the spotlight on our history and it is time we started looking after it."
Cr Greenow added that she would actually like to see access to the sites made easier not more difficult.
"If they make it difficult to get in then people won't come and it is possible access will be reduced further," she said.
"We should be making our history more accessible."
The Office of Penrith Lakes was established just over a year ago to see the State Government's interests in the site met and facilitate the development of a masterplan for the Lakes Scheme.
However, a spokesperson for the Office said that they had not been consulted on the proposal and had no stance on the issue.
The Department of Planning confirmed that approval for changes to the road were approved in 1998 and that the timing of the closure is a matter for PLDC.
PLDC did not respond to the Weekender's request for comment prior to our deadline.