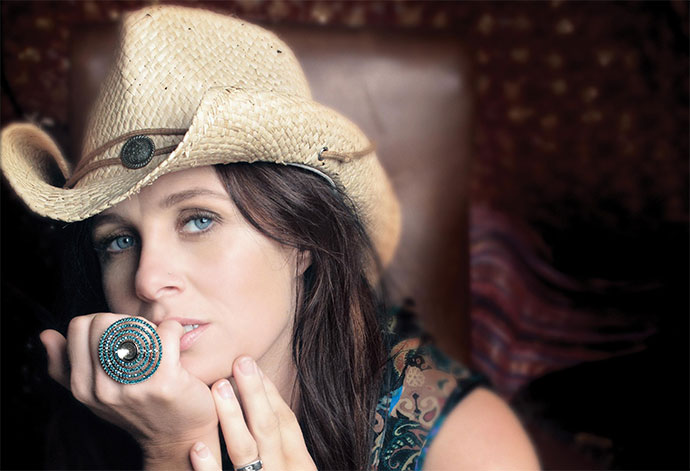 She may be an ARIA award-winning musician but you're more likely to spot country crooner Kasey Chambers down at the schoolyard than on the red carpet.

The celebrated singer-songwriter is one of Australia's most popular country acts but has slowed down her career to embrace her role as mother to her children: 11-year-old Talon, five-year-old Arlo and one-year-old Poet.
"I'm kind of just Tal and Arlo's mum when I'm down at the school; no make-up, looking pretty daggy in my trackpants… obviously people would be aware that I'm a singer or whatever and sometimes we'll do little fundraiser gigs and stuff like that for the school… but it's never awkward or anything, so it's good," she said.
But although Chambers is clearly proud of her brood, the issue of family is a sensitive one after an announcement earlier this year that the singer and her husband Shane Nicholson had separated.
Unlike many celebrity break-ups, there are no dramatic fights or bitter feelings between the pair, who have remained close friends and still collaborate and play gigs together.
"It's great and I honestly mean that… we have remained really close friends, we've remained working together… obviously we co-parent and everything together and that's just a given but even the things that we could choose not to do together, we still are," she said.
"We just kind of want to eliminate the hard stuff, which is the husband and wife stuff. So it's been really nice and we're like any normal people, we have our moments but overall I'm actually really proud of the way that it's going for both of us and we're being grown ups about it."
Even with all the changes happening in her life, Chambers is still keeping busy touring and admits that she gets "itchy feet" when she stays homebound for too long.
Chambers is embarking on what she jokingly calls the "Kasey and friends" tour, accompanied by her father Bill Chambers and up-and-coming country artists Ashleigh Dallas and Harry Hookey.
Chambers said she was excited about the tour, which will drop by Penrith's Evan Theatre on Sunday, June 23.
"It'll be fun, these are some of my favourite people that I'm getting to work with, it's not just grabbing a bunch of guests and chucking them on a gig together, these are all people that I spend my time with socially and we jam together all the time and it's really nice to get the chance to experience that with an audience watching too," she said.
Touring is a family affair for the Chambers clan, with Kasey and her father Bill playing on stage while her mum sells merchandise and her brother Nash handles the front-of-house sound.
Traveling together is a long-standing tradition tracing back to when Chambers was a toddler and enjoyed a free-spirited childhood, living out of the back of her parents' car as the close-knit family travelled the Nullarbor Plain.
This unorthodox start to life introduced young Kasey to music, although it wasn't until she was much older that she began to realise how special her upbringing was.
"We would sit around the campfire and my Dad would get out the guitar and play songs to us and we'd all sing together… I thought it was really normal because I didn't know any different," she said.
Despite her lack of expectations growing up, Chambers has crafted a successful music career for herself with her first five albums going platinum, and her second record 'Barricades and Brickwalls' becoming the best-selling Australian album of 2002 and scoring three ARIA awards.
Unlike many country artists, Chambers has managed to break through to a mainstream audience with her acclaimed song 'Not Pretty Enough' reaching number 1 on the ARIA Singles Chart and receiving extensive airplay.
Chambers chalks up the song's success to timing, noting that it was a powerful counterpoint to the sexualised music marketed to young girls at the time.
"A lot of the stuff that was on the radio and was popular were artists; women who looked perfect and were beautifully skinny and had very sexualised songs… I just think that young girls related to feeling not pretty enough and feeling insecure and it came from a real place for me to write that song," she said.
Kasey Chambers will play at the Evan Theatre, Penrith Panthers on Sunday, June 23 at 8pm. Tickets are $50. For bookings or more information, visit www.penrith.panthers.com.au.