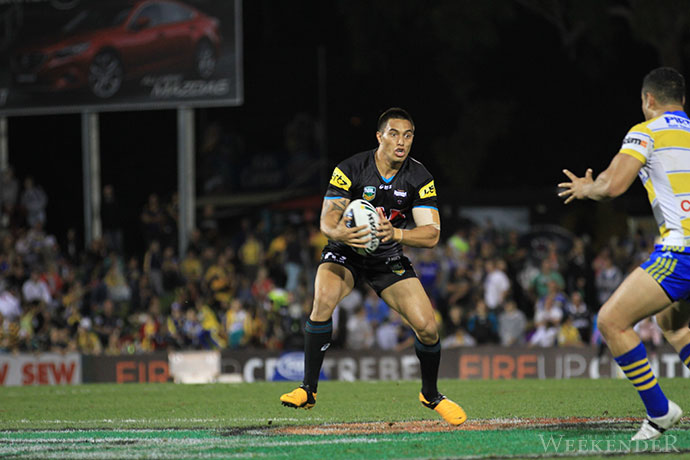 Panthers centre Dean Whare admits his side's season did a complete 180 the moment new blood was introduced and crucial changes were made to key positions – including his.

The 23-year-old began his first five games as a Panther in the coveted fullback position, previously occupied by Michael Gordon and injured five-eighth Lachlan Coote.
Even though Whare spent most of his time at his former club, Manly, filling in at the back for the injured Brett Stewart, he never felt or looked comfortable when wearing the number one jumper at Penrith.
"I think naturally I wasn't a fullback; centre is my position," Whare told Extra Time.
"The move to centre has probably helped my form over the past month or so. I couldn't score a try to save my life at fullback but have a couple now in the centres, also my defence has picked up."
The New Zealand international believes his combination with the newly re-signed David Simmons and fellow Kiwi Sika Manu has made him a better player.
"I'm working well with David Simmons, he's in the best form of his career at the moment," Whare said.
"Sika is another experienced player who knows the game well. He's won premierships and played internationals and has been a big help to me."
Whare admitted the decision to move him from fullback to centre was a "mutual one" between him and coach Ivan Cleary.
The decision proved a masterstroke because it earned wonder boy Matt Moylan a first grade call-up.
"I think our season changed for the better after that Newcastle game where we lost 8-6 plus my shift to centre and young Moyza and Isaac John coming into the team," Whare said.
Whare said Cleary is ensuring the team continues to stay grounded despite their recent positive form and also embraces their underdog tag.
"Being underdogs doesn't bother us because it gives us more confidence and motivation," he said.