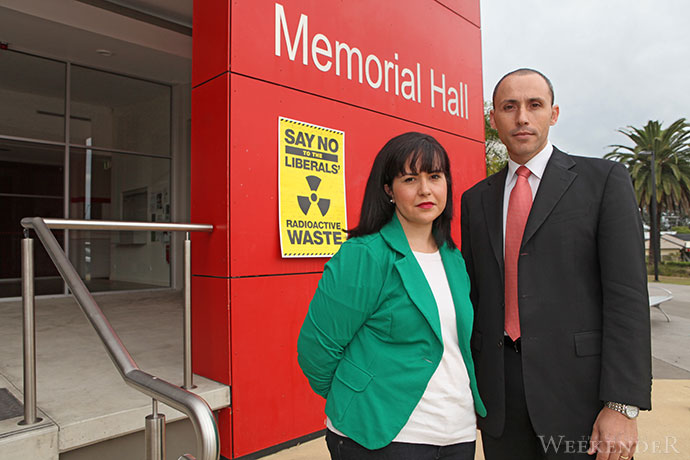 The community will get its most public opportunity yet to display its anger about waste from a former uranium smelter at Hunters Hill being moved to Kemps Creek, with a public rally confirmed for June 13.

Residents initially approached Penrith Council to hold a rally against the State Government's controversial plan to send the waste to the SITA Waste Management facility at Kemps Creek.
However, the request was rejected on the basis that it could cost up to $10,000.
Federal Member for Lindsay, David Bradbury, who has been vocal in his opposition to the waste coming to the Penrith LGA, then stepped in, saying he would fund the rally out of his own pocket.
He has hired out St Marys Memorial Hall at a cost of $400 for the June 13 event.
"I was disappointed when Council took the decision not to support a rally," he said.
"It represents a backdown from the previously strong record Council has set in representing locals on other issues such as the ADI site, Badgerys Creek airport, Castlereagh tip and in more recent times the Orchard Hills dump."
Councillor Prue Car, who has been unwavering in her support for the rally, said residents would be consulted on what format the rally would take, but the local MPs as well as the Premier, Barry O'Farrell, would be invited.
"A decision has not yet been made and we have a right to hear why they want to bring toxic waste to our area," Cr Car said.
Mr Bradbury added that he urges all attendees to show the Premier the respect that a person in his role deserves.
MP for Mulgoa, Tanya Davies, is less than impressed with Mr Bradbury's rally and launched a scathing attack.
"We provided a public forum involving all the experts for the community to have their say. David Bradbury's Federal track record is so toxic that he has to resort to campaigning on State Government matters," she said.
Ms Davies reiterated that the State Government has asked Mr Bradbury to nominate a Federal site for the radioactive waste to be disposed at as an alternative to Kemps Creek.
The Weekender understands that the Federal Government has set aside $37.5 million for a nuclear waste facility at Muckaty Station in the Northern Territory.
However the future of the site is shrouded in legal complications and will apparently only be taking medical waste if the facility proceeds in the next five to 10 years.
"When David Bradbury met with the Premier about this issue, the Premier agreed to pay to send the waste to a Federal facility if David Bradbury identified one. He has not come up with anything and his best plan to date involves a media stunt and needlessly alarming the residents," Mrs Davies said.
Mr Bradbury responded by saying there is no current Federal facility that could take the Hunters Hill waste and that encapsulation on site remains the Penrith community's preferred option.