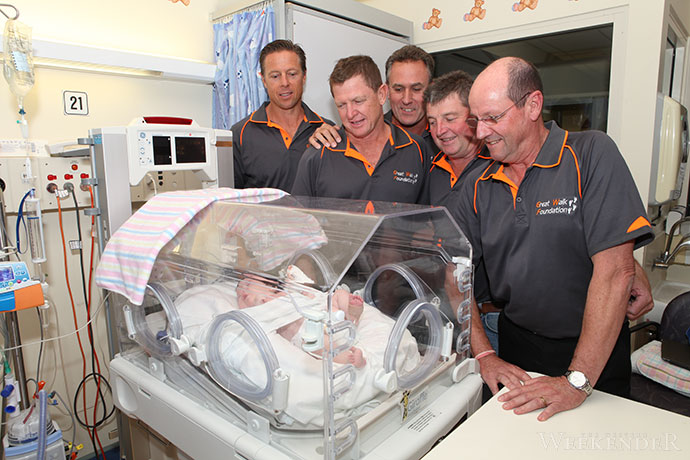 Before the Great Walk Foundation began to support Nepean Hospital's children's ward, seriously ill local kids and their families would often have to travel long distances to get the care that they needed.
Including a recent $50,000 donation, handed to the hospital on Wednesday, May 15, the Foundation has donated a total of $150,000 to the children's ward.
"It enables the children's ward at Nepean to provide services and equipment to patients which is on-par with tertiary institutions," said Nurse Unit Manager of the Nepean Hospital Children's Ward, Christine Sulfaro.
"The equipment that we have purchased with the money donated by the Great Walk Foundation means that families and children can remain at Nepean, close to their support base, for treatment."
The Great Walk Foundation's contributions have already bought two humidicribs, a number of wall monitors and other equipment for the ward.
This donation will purchase two wall monitors, which enable the continuous monitoring of the child's oxygen, heart rate and respiration and two oxygen blenders, for children having trouble breathing.
"We thought, in the modern day, for a hospital the size of Nepean to not have the equipment to keep a sick child close to home just isn't right. These families would have to pick up and move out to Westmead or somewhere else," said one of the Foundation's founders, Jonathan Green.
"We had the opportunity to see a little child in one of the humidicribs that we bought for the hospital. You could really see that we were saving lives, it was nice."
The Great Walk Foundation raises money for local organisations by taking on an annual walk from Bathurst to Blaxland.
To date they have raised $450,000 for local organisations.
This year's walk is beginning on Tuesday, May 28 and will complete at the Lapstone Hotel on Saturday, June 1.
For details, visit www.greatwalkfoundation.com.au.