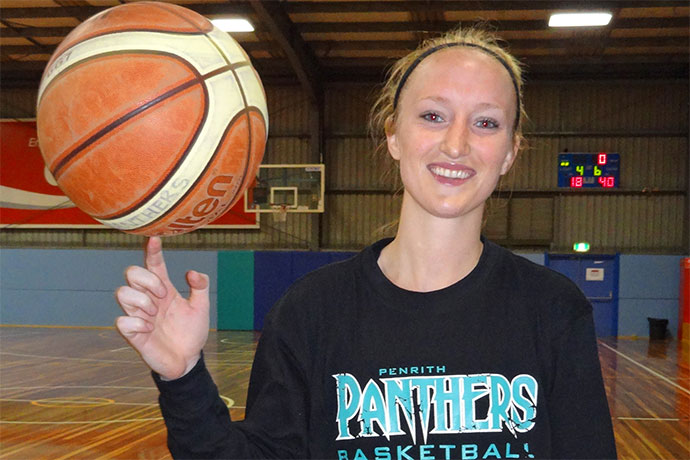 She's talented, fast and has a mean crossover – meet Penrith basketball's newest international sensation, Kallie Hovatter, all the way from Virginia, USA.

The 23-year-old from North Carolina's Elon University debuted with her new Panthers Waratah League teammates last Saturday night, just days after getting off a 22-hour flight from the US.
Speaking to the Weekender after the game, Hovatter said her dream has always been to travel and play basketball overseas.
"I'd just graduated and I was communicating with Greg Gibson, the coach of the national team in Finland," she said.
"We were talking about getting me to Finland and then he said he knew of a really good league in Australia and talked about Daniel Fischer (Penrith Men's Youth League Coach).
"I said to him: 'Daniel Fischer's been my idol since I was seven-years-old because he came to play basketball in Virginia, where I am from'.
"I'd idolised Daniel since I was little and on Tuesday, when I landed, it was the first time I've seen him since I was seven. Basketball has brought us along on this journey which is so cool."
The 175cm guard scored 13 points in her opening game for the Panthers but amazingly apologised to her coach, John Hennessy, after the loss to the Sydney Comets, for not putting in a better performance.
Her apology clearly reflects the strict nature of the American college basketball system she's used to.
"I want to win, I hate losing, I can't help it," she said.
Hovatter isn't sure what the future will hold during her time Down Under but she plans to stick around for as long as possible and fight her way into the top women's league in Australia.
"I might work my way back to the US one day but I've always wanted to travel and play basketball because I'm from a farm and never got out much," she said.
"Australia is beautiful and I'd love to represent this country. I'd like to try out for the WNBL and see where that takes me. But I'm playing for Penrith now and I'm really excited but we have got to start winning some games."
After her 32-minute opening stint last weekend, it's clear that Hovatter could potentially have a long and fulfilling career in Australia but even she admits she'll need to get accustomed to the lingo first.
"I don't even know what the coaches are saying," she joked.
"At timeouts I'm like 'Okay, what did you say to me last time?'
"The lingo's wonderful. I love listening to you all talk, I could listen to you (Australians) talk all day but if I don't catch it right away I'll figure it out."
Hovatter will be looking for an improved showing when Penrith is in action this weekend.