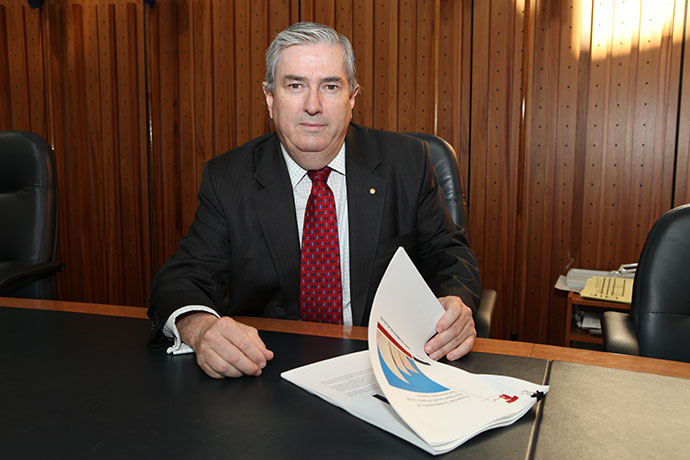 Penrith Councillors have lambasted a Treasury Corporation report that states Penrith Council is in a "weak" financial position.

Treasury Corporation, or TCorp, compiled the research report, Financial Sustainability of the New South Wales Local Government Sector, on behalf of the Independent Local Government Review Panel.
The report indicates that councils have a backlog of infrastructure that is unfunded, and that councils do not have enough liquidity.
Cr Ross Fowler said he was "shocked and very disappointed with TCorp" because the report was rushed and inaccurate.
"I feel they really haven't gone into the details correctly and have painted every council with the same brush," he said.
"Council has been well managed over the review period of the last three years… they say there is a back log of $57.2 million in infrastructure but this is relatively small compared to other councils."
Cr Fowler said that Council made the decision to borrow funds and put these into a maintenance backlog fund roughly 10 to 12 years ago after identifying the shortfall.
"We are spending more than other councils to make up this backlog but unfortunately TCorp has not taken this into account, or other things we do such as borrow against future income," he said.
He said Council uses other innovative methods to manage their financial position such as depreciating assets at a reasonable level.
"Whilst the report is something that Council must take on board, I really have some doubts about the veracity of this report."
Cr Fowler's sentiments were shared by Cr John Thain, who said: "They have done no in depth analysis because if they had they would have said we are in a very good financial position".
"There are 152 Councils and I don't think the time was given properly to each one," added Mayor, Mark Davies.
Councillors have endorsed the Draft Corporate Planning Documents for 2013-14 for public exhibition, detailing the proposed expenditure on services for the next financial year.
Penrith Council is forecast to record a deficit of $337,241 this financial year.
A report on the Corporate Planning Documents received at Council on Monday night said that the likely deficit "highlights the continued need for vigilance and that limited or no capacity currently exists to accommodate new priorities".
The 2013-14 budget is expected to be balanced.