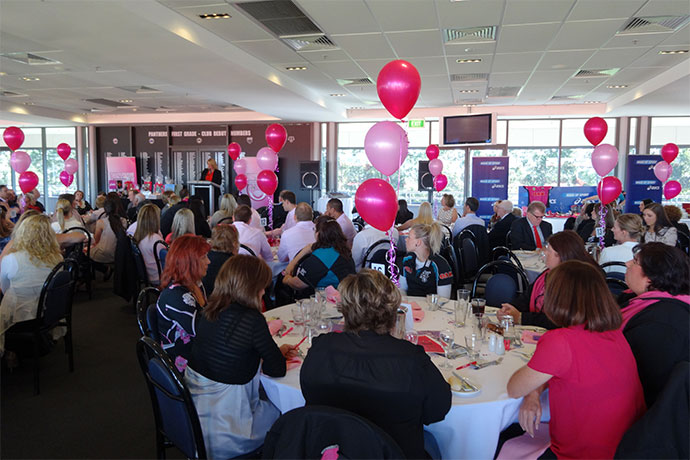 The Penrith Panthers celebrated the incredible women of the game yesterday at their annual Women in League luncheon at Penrith Stadium.

Hundreds of women involved rugby league locally and abroad attended the function which celebrates the hard work and dedication women give back to the game from the grassroots to the NRL.
The luncheon also acted as a charity function where money was raised for the newly opened Ronald McDonald Family Room at Nepean Hospital.
Panthers stars and their partners were also on hand for the occasion including coach Ivan Cleary, captain Kevin Kingston, Sika Manu, Nigel Plum, Clint Newton and Lewis Brown.
One of those special women celebrated at the luncheon was long time volunteer and Sunday Registrar at Brothers Junior Rugby League Club, Michelle Farkas.
Ms Farkas said she's proud to have been involved in the game of rugby league for more than 20 years.
"Realistically I think most clubs rely on women," she said.
"To have days like this, for the junior league to recognise what we put into this game, is just amazing.
"I have four sons who played, so being part of rugby league with them is something I wanted to do. I learnt the rules, I helped them kick footballs, threw a ball to them, been used as a tackle bag – all those things. From a family point of view it's just brilliant."
Another great local woman in rugby league is newcomer Megan Townes, Secretary at Emu Plains Junior Rugby League Club.
"It's great for us women to be able to come together as a large group to show our passion for the sport as well as support a really good cause," Ms Townes said.
"Our club, Emu Plains, couldn't run without the women in the canteens and the mums taking kids to training. Without them the club doesn't function.
"I have an eight-year-old and a nine-year-old boy playing the game, and my daughter even comes down and supports them by putting on the Emus outfit."
The Penrith Panthers take on the New Zealand Warriors in their annual 'Pink Panthers' game this Saturday night at 7.30pm at Penrith Stadium.