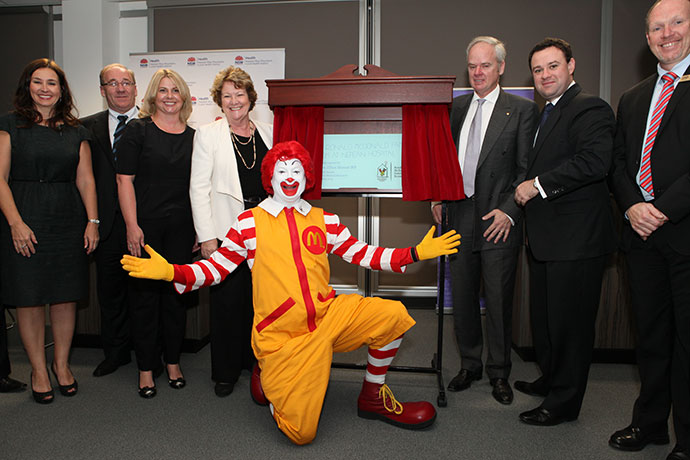 A special room in Nepean Hospital's Neonatal Intensive Care Unit (NICU) is set to put a smile on the faces of local families going through difficult times.

The new Ronald McDonald Family Room, which has been in the works for years, was officially opened on Monday as a haven for parents and families of sick babies being cared for in the NICU.
The brightly coloured, homely Family Room contains two bedrooms with ensuites, a kitchen, lounge room, dining room and play areas as well as designated quiet rooms for when mums need some time out to breastfeed or even relax with a good book.
"It's really nice to have somewhere nice for parents to be. It's so stressful and I know that some NIC Units don't have good parent areas and I think we are very fortunate to have the area that we have now," Dr Lyn Downe, Director of the Neonatal Intensive Care Unit, said.
"It will be really great to have volunteers in there to actually help these parents."
The completed room is the result of the seamless work between local businesses, local McDonald's franchisees, the Ronald McDonald House Charity and the Nepean Blue Mountains Local Health District.
As someone who has had personal involvement with the NICU, when his daughter spent 136 days in intensive care after her birth, local McDonald's franchisee, Ian Garton could immediately see the benefits of a Family Room.
"When I go into the Nepean Family Room, it feels a little bit to me like an oasis where some of the cares are removed from the shoulders of people, who I know from experience, are going through a very, very difficult time," he said.
McDonald's Australia Chief Executive Officer, Catriona Noble, said that is what the charity aims to do.
"That's what our houses and family rooms are all about; making people feel that there is that love and support there in a very difficult time," she said.
NSW Minister for Health, Jillian Skinner, officially opened the room, calling it a "special place" for families to call their own.
"You can see the compassion, passion, support and value of the work done in the NICU," she said.
The Family Room will continue to be funded by donations to the Ronald McDonald House Charity.