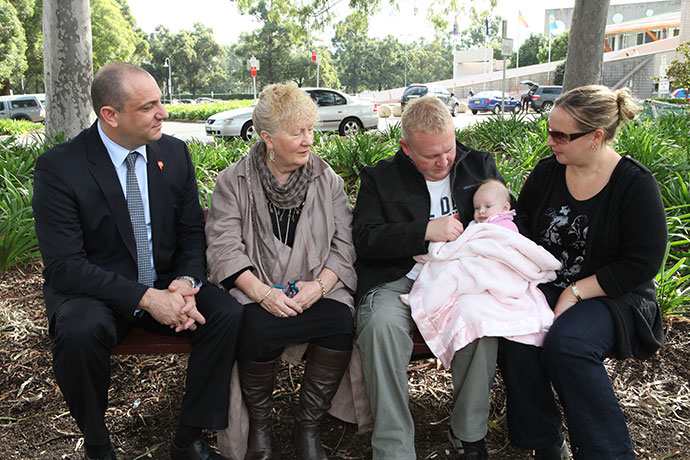 Two Penrith families have been evacuated from their homes amid fears they have been exposed to asbestos by Telstra contractors remediating pits for the installation of the National Broadband Network.

The Weekender reported on May 17 that Telstra and WorkCover had commenced emergency investigations into allegations that contractors remediating Telstra pits in Hornseywood Avenue, Penrith, had exposed residents to asbestos concrete dust.
Emotional representations made by affected residents to Penrith City Council on Monday night heightened concerns that Telstra and the contractor involved, Service Stream, had done nothing to rectify the situation, three weeks after the residents were first exposed.
Troy Lancaster, who lives on the corner of Hornseywood Avenue and Evan Street, said that his family's lives have been changed forever after they were exposed to dust containing asbestos.
"The fact is we were not notified of these works. My wife and my 15-month-old son have been exposed because they were in the front yard, going about their daily lives," he said.
"Who can tell us whether this will cut our lives short? Are we scared for our families? Yes we are."
Matthew O'Farrell, who initially raised the alarm on May 7 when he saw workers breaking up concrete asbestos with a hammer, said his family is also very emotional and distressed.
"We have asbestos dust over the front lawn, in our cars, in our prams, on the carpet where my six-year-old and 12-week-old lie down and play, even in my shoes I found the dust," he said.
The families met with Telstra and Service Stream last Friday and were given two nights in the Chifley Hotel while remediation of the pits was to occur and were told to return home on Tuesday morning.
After extensive media coverage and representations by Penrith Mayor, Mark Davies, further accommodation has been provided for the families whilst their homes are remediated.
Barry Robson, President of the Asbestos Disease Foundation Australia, is calling for the families to be registered with the Asbestos Diseases Board.
"The families have been exposed, they need to be registered so that every three years they are tested… it is important they are tested because we don't know what might happen 30, 40 and 50 years down the track," he said.
On Tuesday, the Mayor approached Telstra with the residents' concerns, and asked for a 24-hour and 48-hour action plan for remediation.
"The safety of our residents must come first, and it is a serious concern that there has been such a delay in the process," he said.
"Council has no jurisdiction over what is happening but we have asked Telstra that measures be put in place so that this never happens in Penrith again."
A Telstra spokesperson has confirmed remediation of the Penrith homes will commence shortly.
"We have an obligation to the wider community to clean up these public sites as quickly as possible," the spokesperson said.
"The contractor Service Stream put a detailed remediation plan to [residents] after discussions since the incident occurred – at this stage this will see the public sites cleaned and, with the residents' approval, comprehensive cleaning of their properties will take place as well."
Service Stream have engaged an asbestos removal expert to do the work.
Telstra has also announced that all work on remediation of pits for the NBN has ceased until a review is undertaken.
When contacted, an NBN Co spokesperson said: "The safe and proper handling and disposal of asbestos is non-negotiable. NBN Co has stringent policies and procedures in place for the management of asbestos."
Federal Lindsay MP David Bradbury has urged the Opposition not to turn the asbestos drama into a political football.
It comes as the issue threatens to erupt into a political fight, with some Liberal Party members suggesting there has been a lack of action from Lindsay MP David Bradbury.
Mr Bradbury denies that he has been silent on the issue.
"I've been working closely with the residents," he said.
"There's a lot of baseless allegations being made by Liberal representatives. I would simply encourage them all to work with myself and local residents to try to seek a resolution to this issue."
Earlier on Wednesday, Liberal candidate Fiona Scott had expressed concern about the asbestos issue.
"As a candidate, I have discussed the matter with representatives of Council, with Stuart Ayres the state member and Senator Marise Payne, and I wholeheartedly support them in their raising of these issues," Ms Scott said.
"I support the strong stand that Council has taken, and I am also waiting to hear the public response of the Federal Member for Lindsay to the concerns raised locally, particularly given that the NBN rollout is one of his and the Gillard Government's supposed symbolic projects.
"The last thing Australia needs is for this to be rushed and for mistakes to be made which impact our local residents."
Ms Scott said the health and welfare of local residents should be paramount.
Mr Bradbury agreed, saying his staff and himself personally have been heavily involved in talking with the affected residents and liaising with the relevant parties, including Telstra.