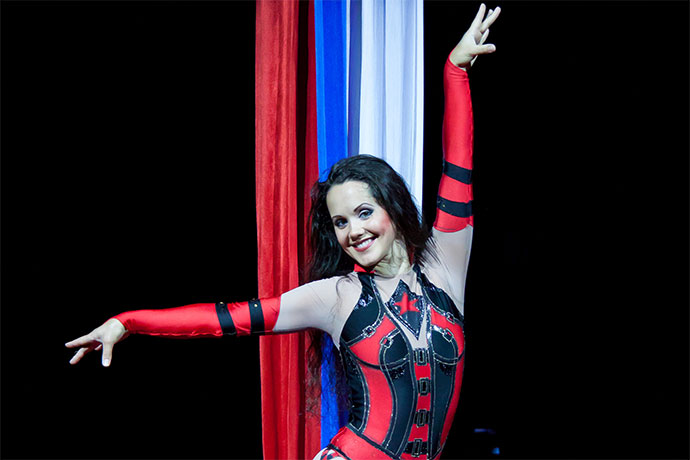 From death-defying stunts to beautiful trapeze artists, the Great Moscow Circus has it all and will be keeping locals entertained when it comes to Penrith.

The circus, which has revamped its show with new acts, will be showing in Penrith at Castlereagh Road from Wednesday, May 22 to Sunday, June 2.
Circus lovers will be thrilled with the amazing new repertoire of acts on display at Moscow Circus, which emphasises the brilliance of traditional Russian circus performances.
Keeping up with modern standards, the traditional, exotic circus animals are gone and instead a group of clever and lively miniature horses light up the stage with their faultless and elegant tricks.
Be wowed to see the performers take on the exhilarating Globe of Death, with five highly tuned motorbikes whizzing around a metal globe at breakneck speeds over 80 kilometres per hour until it miraculously splits in two.
The daredevil stunts continue when Alfredo and Anya, who are partners and friends, do a knife throwing trick that will leave audiences on the edge of their seats when the blade just misses by a whisker.
On top of the thrilling acts, the circus program will also amuse with the hilarious clowns and talented, elegant trapeze artists whose flexibility and strength will awe.
With a reputation for high quality entertainment, The Great Moscow Circus has been in the business for an impressive 50 years with Michael Edgley and his family working hard to create a show that is enthralling as well as affordable.
There are 20 superb acts from Russia and across the globe, taking audiences into a fantasy land with beautiful set design and lighting and elaborate costumes that will complement the breathtaking performances.
For half a century, the Great Moscow Circus has been entertaining crowds with their skilled performers and impressive acts, and audiences can experience the grandeur of a Russian performance.
The Great Moscow Circus will show at Penrith on Castlereagh Road from Wednesday, May 22 to Sunday, June 2. For bookings or more information, call 1300 798 550 or visit www.moscowcircus.com.au.