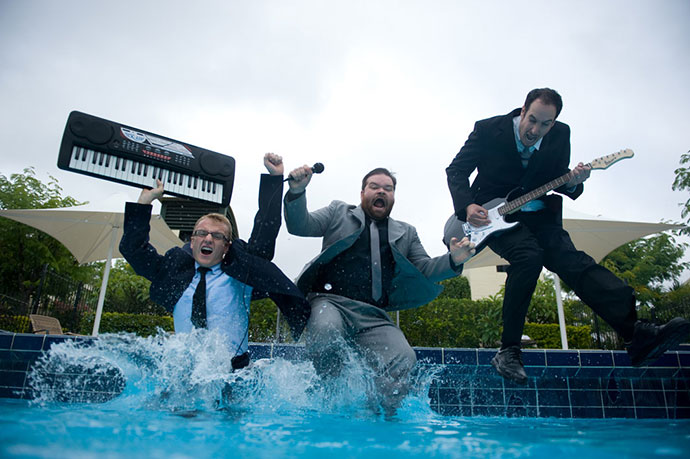 The Melbourne International Comedy Festival Roadshow offers the best in Australian comedy and Penrith fans are in for a treat – the only Sydney show will be performed locally.

The Roadshow, which features a star-studded line up, will stop at the Q Theatre in the Joan Sutherland Performing Arts Centre on May 15.
Audiences should prepare for a fantastic night of laughter, with comic legend Dave Williams as the MC and a talented group of funnymen set to light up the stage including Matt Okine, the award winning Felicity Ward, and Dayne Rathbone.
The Axis of Awesome, who shot to stardom after their 'Four Chord Song' video went viral on YouTube, will also be performing at the festival and are bound to be a popular act.
The band, which is made up of lead singer Jordan Raskopoulos, keyboard player Benny Davis and guitarist Lee Naimo, are well-seasoned comedians and have already appeared at the Melbourne International Comedy Festival five times.
They have also played in other prestigious comedy festivals including the Edinburgh Fringe Festival, and toured in a diverse range of countries including the UK, US, Sweden and Asia.
Lee Naimo said that fans could expect a fun night with, "maybe 20 minutes or half an hour of our absolute greatest hits", while also praising the other comedians who are also on the line-up.
"They're all great, we're really good friends with all of them especially Matt and Dave and Felicity who we've toured with a lot before. I've met Dayne, I've seen his show a few times. That's quite exciting because Dayne's a real off the wall comedian, he's quite crazy but he's very new to it so he's very entertaining to watch. They're all great, what a good bunch of people," he said.
With their quirky, catchy brand of musical comedy, Axis of Awesome has gained a massive fan base both locally and overseas but before they were internationally known names, the trio were just a group of friends at the University of Sydney.
It was there that Naimo met Raskopoulos, performing in theatre sports and improvised comedy groups before stumbling upon Davis playing the now infamous 'Four Chord Song' by himself. Naimo was so impressed with the song that he suggested they form a band together.
"We booked in rehearsal that week but before we got to rehearsal, I booked in a gig for two days later knowing that if we didn't have anything to work towards we'd just stuff around and not get any work done so when the other guys arrived at my place for rehearsal, I was like 'well we've got a gig next week so we better write some songs'… from there it just kind of snowballed," Naimo explained.
The band began working at clubs, theatres and festivals and eventually became known as one of Australia's most popular comedy groups. Despite their success, Axis of Awesome have remained close friends and still work hard to collaborate on their songs.
"We often get early to gigs for sound check and then hang around until the end of the show so we'll throw ideas around, I mean even just last night we haven't seen each other for a little while and we were talking about a new show we want to work on so it's kind of exciting… 90 per cent of them will never make it to the stage but that's part of the creative process, throwing away the ideas that won't work and keeping hold of the good ones," Naimo said.
Since Axis of Awesome is best known for their parodies of popular music, the band members also seek inspiration from the radio with their latest song mocking club music.
"We wouldn't have been able to write that song without listening to that kind of terrible music in the first place, so sometimes you've got to listen to some bad stuff to be inspired," Naimo joked.
Fans will be in for a wild ride at an Axis of Awesome show, with the band often switching it up by improvising during their concerts.
"We might play a smaller theatre or a comedy club, so there's definitely a lot of impro that goes on on-stage if we're doing a late night spot. We might have a few drinks before and have a bit of fun with it, which often is what the crowd want to see, they want to see you up there relaxed and having a good time."
The Melbourne International Comedy Festival Roadshow will show at the Q Theatre, Joan Sutherland Performing Arts Centre on Wednesday, May 15 at 8pm. Tickets are $29. For bookings or more information, call 4723 7600 or visit www.jspac.com.au.