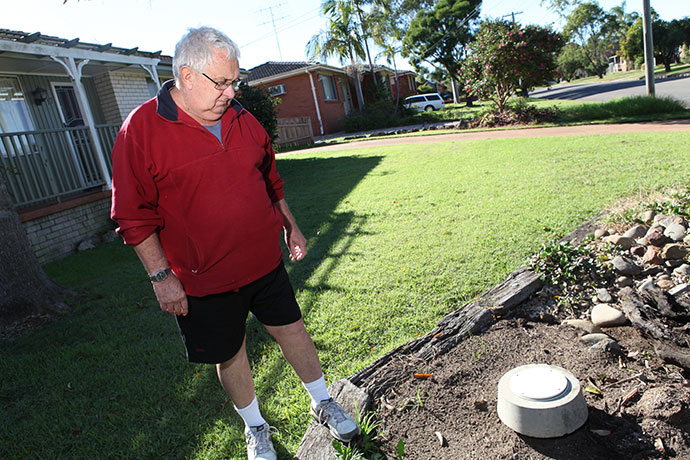 Each time the sky is overcast, threatening a downpour, residents of Timgalen Avenue in South Penrith hold their breath, expecting the worst.

Each time it rains, man holes and other points of access to the system in the street burst open, spewing sewage into the street, onto footpaths and across lawns.
Residents living on the South Penrith street have had enough and are calling on Sydney Water to take action.
"Tampons, condoms and human waste, including faeces, come out onto our lawns, run down the footpaths and onto the street," said resident, Brian Carter, 72.
"It has already happened three times this year and next time it rains, I am sure that it will happen again."
The health issues involved are serious and the stench of raw sewage stays around for weeks after an overflow with some residents forced to turn away their visitors.
"The smell was unbelievable the other day and that stench is still there," Mr Carter said.
"I was going to get my grandchildren to come over at the start of the school holidays but I just couldn't let them come near this. I ended up going to their place."
Residents say that each time sewage comes out of the main, Sydney Water are called and send out an efficient team to clean up the mess but have not determined a cause of the overflow.
"The crew that come out and do the cleaning up are brilliant but they shouldn't have to keep doing it," Mr Carter said.
Sydney Water have sent out inspectors who have told residents that the overflow is due to illegal storm water connections to the sewerage pipes.
"That's a hell of a lot of water coming from roof tops. The answer is more likely that there is stormwater overflowing from Sydney Water stormwater pipes to sewer pipes because of the water volume," said another resident, Peter Townsend.
Sydney Water said investigations are continuing into the cause of the overflows.
"Until the issue is resolved, our crews will continue to respond to any overflow call outs and check for blockages," said a Sydney Water spokesperson Keiran Smith.