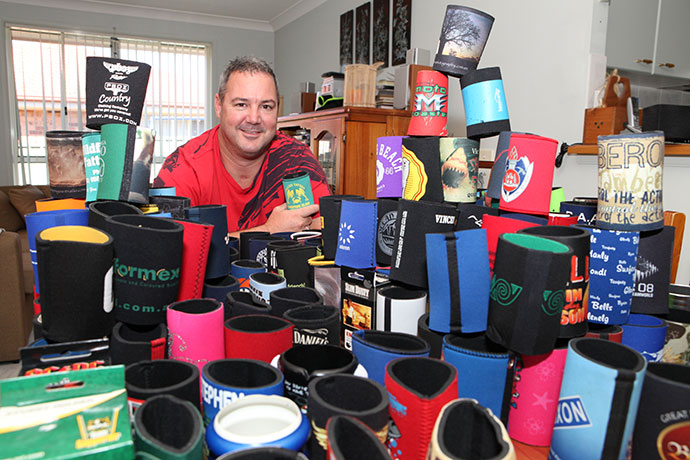 The Weekender went on a hunt this week to find Penrith's 'craziest collector', and we didn't have to travel very far to find our first contenders.

Glenmore Park resident Steve Hauer collects stubby holders, which might sound like a pretty common thing most men collect, but what makes Steve's collection of drink coolers so unique is the vast variety of items that he has.
"I have 230 stubby holders. I'm not sure why I collect them but I guess it's a souvenir for me wherever I travel," he said.
"I started buying them in 1994 and then it just snowballed from there."
Mr Hauer keeps his prized collection in all different parts of his house; a few in the kitchen cupboard for when his mates come over and the rest in boxes in the garage. He even likes to rotate them so there's some fresh ones on display.
"My wife thinks I'm crazy," Mr Hauer said.
"She doesn't say 'don't have them' but every time I come home with another one or I pick one up somewhere she rolls her eyes. But she's even bought a few for me herself."
Mr Hauer said he has collected his stubby holders from all around the world from Asia to Hawaii and even Christmas Island.
"I've got two Osama Bin Laden death ones which are pretty rare, only 100 were made. I also have a number of limited edition ones as well as a few that are truly irreplaceable," he said.
Another crazy collector is Dylan Munroe who has two obsessions: toys and CDs.
Dylan collects monsters, robots, sci-fi characters – almost anything of a pop culture nature.
"I've been collecting toys for around 25 years. My collection is fairly diverse and could be worth up to $30,000, however there are a lot of things I treasure that are priceless to me," Dylan said.
Tell us what you collect: Email [email protected] or call 4722 2998.