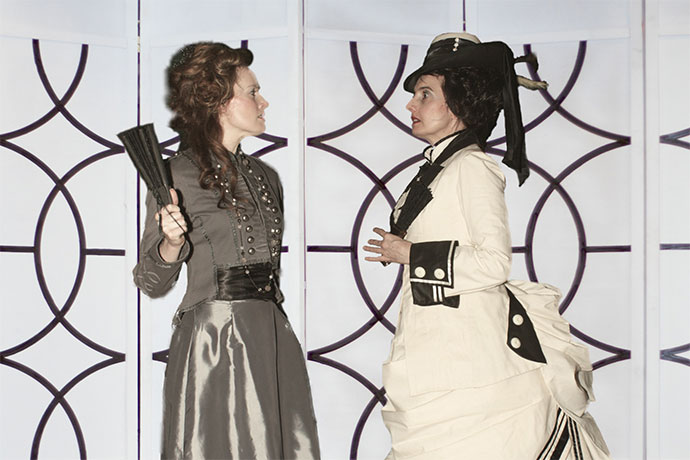 The legendary wit and wisdom of Oscar Wilde has been loved for generations and will come alive on stage in a new production of 'Lady Windermere's Fan'.

The classic play, which was Wilde's first, was written in 1892 and still poses pertinent questions about society and relationships.
A fresh, talented cast from the local Ruby Productions company will perform the play in Penrith throughout April.
The central character of the play is Lady Windermere, a beautiful and aristocratic woman who devotes her life to being a wife and mother.
Yet despite her many positive qualities, she is 'a fascinating puritan' who adheres to a restrictive moral code that was typical of the Victorian era, which leads her to be caught in a number of uncomfortable social situations.
Unfortunately for Lady Windermere, rumours are swirling around London's high society that her husband Lord Windermere has been frequently visiting and spending money on another woman.
After a confrontation between the married couple, Lord Windermere admits that he has been liaising with a mysterious woman, Mrs Erlynn, but insists that nothing is amiss or inappropriate between them.
Things go from bad to worse when the Lord insists upon inviting his new friend to Lady Windermere's upcoming birthday party – to her surprise, Mrs Erlynn shows up on the night and dazzles many of the attendees.
While the plot may seem like a typical story of betrayal, things are not what they seem and Lord Windermere is hiding a shocking secret about the real identity of Mrs Erlynn, which will gradually get uncovered as the play goes on.
One of Oscar Wilde's most popular dramas, 'Lady Windermere's Fan' has been adapted many times including in the 2004 movie 'A Good Woman' which starred Helen Hunt and Scarlett Johansson.
With its intriguing plotline and insightful exploration of social values, the play is bound to make audiences think long after the actors have exited the stage.
'Lady Windermere's Fan' will show at the John Lees Centre, Evan Street on Saturday, April 20 and Saturday, April 27 at 2pm and 8pm. Tickets are $25. For bookings call 4735 5422.