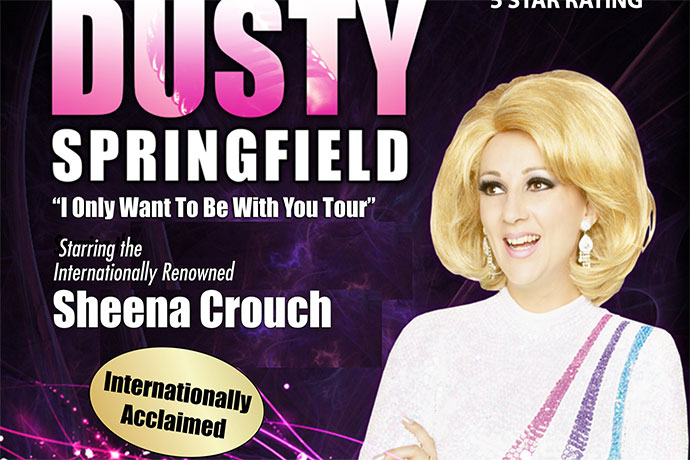 Take the chance to relive the magic of a bygone era of music when two acclaimed performers take on the songs of Dusty Springfield and Tom Jones.

The 'I Only Want To Be With You' tour celebrates the 50th anniversary of Dusty Springfield's first hit as a solo artist and will play at the Evan Theatre, Penrith Panthers on Saturday, April 27.
It stars performer Sheena Crouch as Dusty Springfield and will also feature very special guest Jacques Renay who steps into the role of Tom Jones on stage.
Crouch is a renowned singer who has wowed audiences in Australia and globally with her spot-on portrayal of Dusty.
She will be channeling the spirit and style of the British songstress when she sings all her biggest hits such as 'I Only Want To Be With You', 'I Just Don't Know What To Do With Myself', 'You Don't Have To Say You Love Me', 'Son of a Preacher Man', 'Little By Little', 'Wishin' and Hopin', 'Look of Love' and 'Stay Awhile'.
With her powerful soul tunes, Dusty Springfield topped charts and became an icon of the 1960's and now fans can relive her music again with Crouch's performance.
Crouch will be joined by Jacques Renay who looks, sounds and acts like Welsh pop legend Tom Jones.
Renay, who has performed on stage and the television, has toured across Europe and Australia and won the Mo Award and ACE Award for the Top Tribute Show in Australia.
He has the voice and swagger to perfectly capture the essence of Tom Jones, taking fans on a journey through his catalogue of hits from the early songs through to his latest records.
Don't miss an amazing night of music when these talented performers unite to pay tribute to two of the most iconic musicians of the 20th century.
'I Only Want To Be With You' will show at the Evan Theatre, Penrith Panthers on Saturday, April 27 at 7.30pm. Tickets are $36.50. For bookings or more information, call 4720 5555 or visit www.penrith.panthers.com.au.