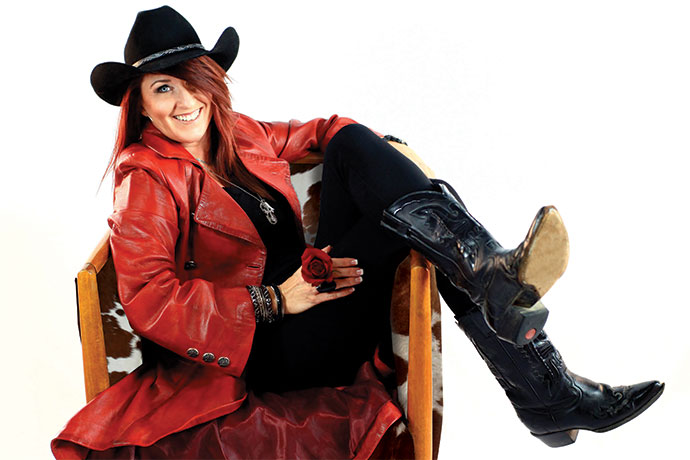 Growing up in a musical, country-loving family meant that Jayne Denham was destined to one day grace the stage. Over the past six years, the songstress has made a name for herself in the Australian country music industry and now she's back and ready to rock with her third album.

Denham, who has had a string of top 10 hits on the country music charts, will release her latest record 'Renegade' at Rooty Hill RSL on Saturday, April 13.
Fans should gear up for a big party, with Denham promising an exciting night.
"The album launch I've been putting my heart and soul into, people that have seen my shows know they're so high energy, I'm all about entertainment and giving the people as much fun as they can possibly have," she said.
'Renegade' follows Denham's two previous releases 'Sudden Change in the Weather' and 'Shake This Town' both of which had a strong, country-rock sound and lyrics that embraced the Aussie outback.
In her latest offering, Denham stays true to her country background while also playing with different genres and moods.
The album's lead single 'Shelter', a slow and melodic ballad, has surprised fans that are used to Denham's rock-based repertoire.
"I wasn't sure how they'd react to me bringing out something really different but I thought, 'well hey, the album's called Renegade, if you're going to go renegade why not start with something they're not expecting', which was a little bit cheeky but that's the whole idea of the album really," she said.
"I've got to admit, I got the most incredible reaction from people just saying how it was so nice to hear me sing a different style and I've had eight singles out on radio previously and eight video clips and they were pretty much country rock so this shows another side of what I do."
Beyond being a crowd-pleaser, 'Shelter' is a very personal song for Denham, who rates it as her favourite track from 'Renegade'.
"I'd never ever done a love song before so that was really fun to put that down on paper," she said.
Although the album's lead single may be a heartfelt ballad, its other tracks are classic country rock, inspired by the big, heavy riffs of Australian pub rock anthems.
Denham was also motivated by the changes she saw in the Australian country music scene over the past few years.
"It was a natural progression I think, from five years ago when I started, the sound of country music has changed so I've tried to keep up with that but also keep it my flavour," she said.
Despite being born into a family of music-lovers and first taking the stage at five-years-old, Denham never had plans of stardom when she was younger.
After playing in bands and travelling through Europe and America as a backing singer, she returned home and began writing country songs for fun.
"It kind of came by default, I just literally wrote some country songs for my mum and dad for Christmas… purely just for fun and then some producers got a hold of it and my first record was recorded. The rest is history," she said.
From those humble beginnings, Denham has gone on to a contract with a major record label and collaborating with some of the music industry's biggest names including award-winning producer Garth Porter and pop-rock star Shannon Noll, who co-wrote the duet 'Beyond These City Lights'.
Success and fame has not changed Denham, who still keeps in contact with fans via social media – although she admits that she occasionally struggles to remember her online friends when they meet in person.
"I have to say, the funny thing that happens is everyone talks to you on Facebook and then they meet you at a gig and they think you know who they are… but their profile picture might be a car," she joked.
"I'm really proactive on my Facebook and Twitter, I think it's fun to talk to all the fans and tell them all the adventures I'm on."
Most country musicians dream of performing in the USA but Denham would rather conquer her homeland than go abroad.
"You know, some people have aspirations of going to Nashville but for me I just want to be able to fly the flag of Australian country music," she said.