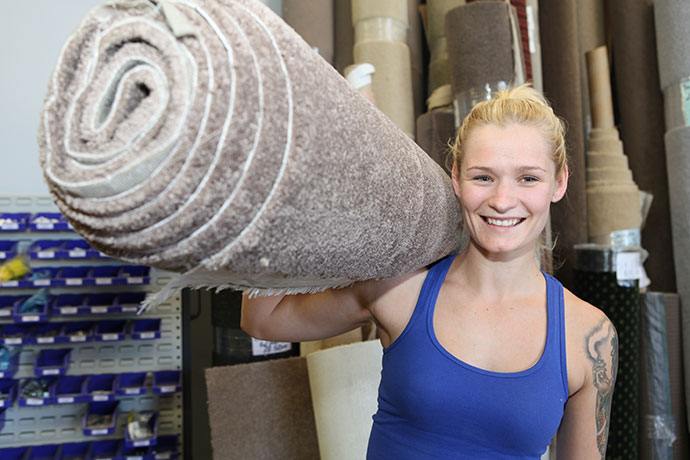 As a carpet layer, Chantelle Yeaman attracts a few puzzled looks whilst doing her work.

Working alongside her dad for Image Carpet and Blinds in Emu Plains, 22-year-old Ms Yeaman said that she loves her job.
"I actually started driving dad to jobs whilst I was working part time and then I started helping out. It was much more interesting and fun than my other job so I quit and became a carpet layer," she said.
A very physically demanding line of work, Ms Yeaman said that she feels she still pulls her weight compared to her male counterparts.
"I go to the gym five days per week and have always been a very active and hands-on person. Sometimes we are required to move furniture and people will ask if I can manage but I don't have much trouble at all despite being quite petite," she said.
More often than not, the quizzical looks come from older women who are not used to the idea of female tradespeople, Ms Yeaman explained.
"We do a lot of work in the Blue Mountains and Penrith for older couples who are replacing their carpets. Often the women are the most surprised but I have never had anyone say anything inappropriate," she said.
The State Government is trying to encourage more women to take up traditionally male-dominated jobs.
"Women currently make up only 13 per cent of trade apprentices and trainees," said Minister for Women, Pru Goward.
"Many non-traditional industries are experiencing growth and skills shortages. For people with these skills, it can often mean good money and the opportunity to set up a small business allowing flexible working arrangements."
Ms Yeaman said that aside from being well paid, being a tradesperson offers job security.
"It is a skill I can always find a job with in the future," she said.
"People will always need carpet to be laid so it is definitely secure."