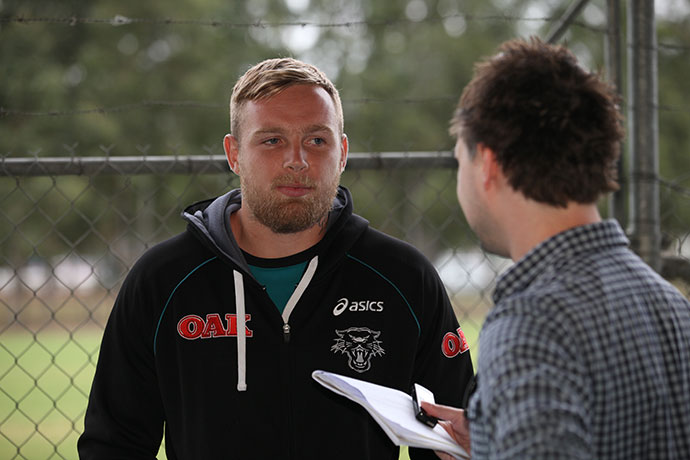 Penrith Panthers coach Ivan Cleary has refused to say why halfback Luke Walsh was dumped to reserve grade this weekend.
Speaking with reporters at a chilly early morning training session, Cleary said he would not be giving the media reasons as to why Walsh was dropped to NSW Cup in favour of Windsor Wolves half Blake Austin.
However, Cleary did say that he was thoroughly impressed with 22-year-old Austin's form of late in the NSW Cup.
"Blake's certainly enthusiastic and very keen to get another shot," he said.
"He's a young man, who played quite a lot of first-grade last year, and I guess is now at a stage where he's not quite the rookie anymore. He's got an opportunity to cement his place in the side and do well.
"He's played well in NSW Cup over the last three weeks and that's what you like to see, guys performing really forcing their way into the team, and to some extent he's done that."
Walsh was dramatically dropped to Windsor yesterday afternoon. Whilst it is widely known that poor form is the main reason, Clearly refused to talk about the issue this morning.
Austin was ruled out with a season-ending shoulder injury mid-way through 2012 and returned this year playing in the halves during Penrith's pre-season campaign.
"Blake played all through our trials and every NSW Cup game, he's going into this game with some form under his belt," Clearly said.
"Blake's a confident kid, he thinks he can do it, and we think he can too."
Austin told the Weekender that he was very excited to get chosen and that this was his second shot to finally make it big.
"It sounds a bit strange being a 22-year-old but I think it is my second chance," he said.
"There was a few things in my game last year that weren't up scratch and there was a few things I done pretty well. Hopefully this week I can put it all together and try and put a complete game together."
The Doonside junior thought his shot back in first-grade may have came a few weeks earlier when former five-eighth Lachlan Coote when down with a season-ending pectoral injury. Coote would later be replaced by Austin's halves partner this week, Tom Humble.
"As a footballer, in the back your mind, you hope you might get the call up but I get on really well with Tommy and it was good to see him get a call up and I'm really excited to play with him this week," Austin said.
Austin revealed he has mixed feelings taking over good friend and 101-game NRL veteran Luke Walsh's position in the side but declared this was his time to shine.
"I've been at Windsor for the last three weeks and you know where you want to be," he said.
"Obviously you feel for Walshy but I mean it's my turn now and all I can do is take my opportunity."
Whilst Cleary doesn't want to talk about the Walsh issue, Panthers Executive Manager of Rugby League, Phil Gould, made no secret that his dumping to reserve grade was due to poor form and confidence.
"I can tell you that Cleary wants Walsh in the first grade side and believes the NRL team will be at its best when Walsh returns to his best form," Gould said in The Sydney Morning Herald today.
"At the moment though, the club's No.1 playmaker is down on confidence and performance. It's not as though Walsh has been playing all that badly. But the coach has left no one in doubt that 'close enough is not good enough'. The Panthers are in a rebuilding phase, but that doesn't mean losing should become acceptable. I think Walsh will soon fight his way back to the top grade. His team needs him."