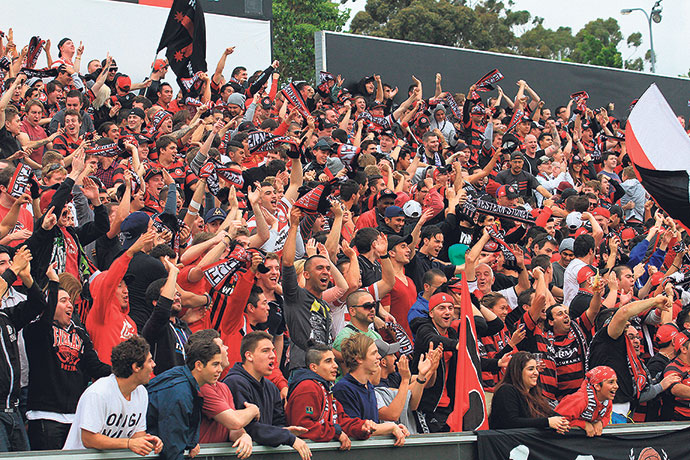 The incredible debut season of the Western Sydney Wanderers in the A-League has continued with the club moving to the top of the table last night.
Now, the Wanderers control their own destiny as far as the league is concerned and will almost certainly move into outright favouritism to win the grand final – a result that would be a sporting fairytale rivalling that of Makybe Diva's three Melbourne Cups or the triumphs of the Australian cricket team during the 1990's.
Yes, their efforts this year are that special.
Many believed that the Wanderers would be found out against ladder leaders Central Coast last night, especially in Gosford, a fortress for the home side. But as usual, the Wanderers surprised everyone – scoring the game's lone goal against the run of play, and winning despite not playing their best football.
The 1-0 triumph was the Wanderers' eighth consecutive win.
Labinot Haliti scored the ultimately match-winning goal in the 81st minute – breaking a deadlock that lasted longer than an entire rugby league match and had fans on the edge of their seats.
Talking of fans, the Wanderers' growing supporters based almost made Bluetongue Stadium their own, and there is little doubt that Parramatta Stadium will be close to full for next Sunday's clash against Wellington.
After the match, Wanderers coach Tony Popovic said he was thrilled with the win despite the overall performance.
"It was a great win, not our best performance and we came up against a very good side today," he told Fox Sports.
"We hung in there and in the end it was a great finish… we put it away which is pleasing and fantastic for these fans who came out in these conditions."
Whilst the Wanderers now control their own destiny, Popovic knows he needs to keep his mind on the job and not get carried away.
"With a side like Central Coast behind you, you have to keep winning," he said.
"We'll take nothing for granted. We'll take this win, it's a fantastic result for this football club, but we move on to Wellington and we will prepare for them."
In their final four matches of the season, the Wanderers play just one side currently in the top six.
The Mariners have a slightly tougher run home, putting the Wanderers in a perfect position to go on and complete a remarkable sporting fairytale.