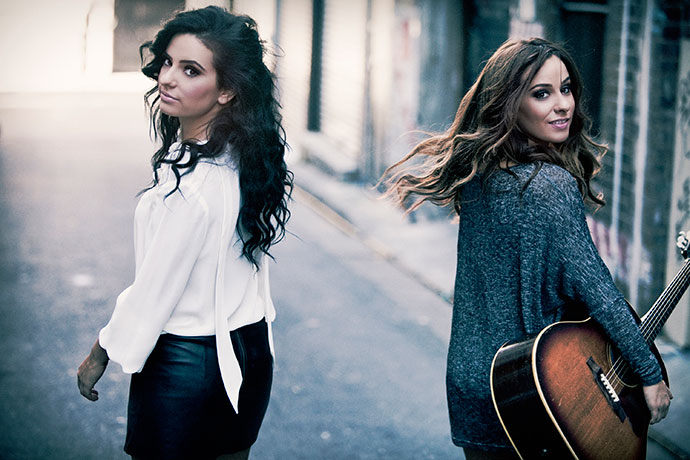 Working with a sibling is most people's idea of a nightmare but for Victoria and Barb Baillie keeping it in the family has been a formula for success. The Penrith-based sisters, each respected artists in their own right, have joined forces and taken the country music world by storm with their new band, Baylou.

Their fresh, edgy take on country music has proven wildly popular among audiences with Baylou's debut single 'Target On My Heart' reaching number one on the Country Music Channel's Top 30 Countdown. Their debut album 'Go To Hell & I Love You' was released on March 15 and will no doubt be just as successful.
For any country music artist, performing in Nashville is the ultimate dream. It's one that both Victoria and Barb have already achieved in the past, and will do again in May when they perform at the CMA Country Music Festival on the international show case.
This moment in the limelight has been years in the making, with both sisters catching the performing bug early on in life.
Born and raised in the country town of Moe, Victoria and Barb took on a variety of creative hobbies including tap, ballet and jazz dancing. The girls found their passion in their early teens when they fell in love with country music and began participating in talent quests, singing and playing the guitar.
Despite their skill and strong stage presence, neither sister achieved instant fame. Instead, they both spent years playing the local pub circuit before finally landing a record deal and achieving recognition within the industry.
Rather than being bitter about their long path to success, Victoria credits the early years of her career with helping her develop as a musician.
"It's been a slow bit of a journey but a really great learning curve along the way," she admits.
"You know our gigs still today vary from smaller venues to bigger venues, it just depends what comes through and whatever we get a chance to do really."
Considered an up-and-coming talent within the Australian country music ranks, Victoria has already achieved substantial success as a solo artist and won a Golden Guitar for Best New Talent at the Country Music Awards two years ago.
Four of her music videos reached the top 10 in the Country Music Channel charts, and she has toured the country playing for fans.
Proving that talent is in their genes, Barb has also carved out a lucrative career in country music, touring alongside a range of respected artists including Troy Casser-Daly, Beccy Cole and Adam Harvey.
She's also supported her sister on stage whenever she could, playing guitar and singing back-up vocals at Victoria's gigs.
It was no surprise then that the sisters decided to collaborate and form Baylou. According to Victoria, becoming a duo was "kind of inevitable".
"I think it was that next progressional step that was going to happen, it was naturally going to happen and I'm glad it did because it is so much more fulfilling as a duo with her," she said.
Like most sisters, the women of Baylou are prone to the occasional argument although Victoria believes this has actually helped them make better music.
"Sometimes it just works… it makes us really seek perfection in what we're trying to create musically and as artists because there is somebody there saying 'nope, we can do better' and 'nope I don't like that' and 'why don't you like it?' so it makes us pull apart what we're doing as artists," she said.
"Sometimes it drives me batty and I want to kill her but she's my sister and you know other times it works really well so it's fun."
Working together has also meant that the bandmates have widened each other's musical horizons, with Victoria in particular appreciating the influences Barb brings to Baylou's repertoire.
A country girl at heart, Victoria seeks inspiration from artists such as Mel Haggard, Patsy Cline, Keith Urban and the Dixie Chicks. She said that the input of Barb, who has more mixed tastes, helped to create a unique sound.
The result of their collaboration on 'Go To Hell & I Love You' is a catchy, rockier brand of country music that differs from their solo work.
When asked to describe Baylou's genre, Victoria said she couldn't think of any artists that were alike: "It's definitely still country, I would say it's country with a twist… it's a little edgy, a little rocky and a little poppy. It's kind of hard to put it in a nutshell or say we're similar to some artists, I wouldn't know who to compare us with".
Even though they've only just released their debut album, Baylou have already turned their thoughts to a follow-up release and are in the process of writing music.
"[We are] definitely, constantly writing always because… I don't think as an artist you just stop unless you have a bit of writers block, but we're already preparing," Victoria said.
For the moment though, the sisters are focusing on promoting their current album.
"I can't wait to go down to JB Hi Fi in Penrith and pick up a copy and take a photo and be like 'yep, it's in the store'."