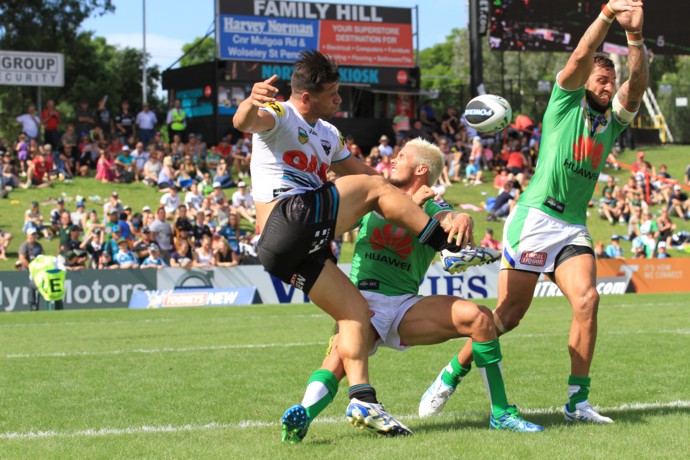 He may travel from the city each day for training but explosive Panthers winger Josh Mansour hopes he can call Penrith home for a long time yet after signing a contract extension last week.

The 22-year-old committed to the Panthers until the end of season 2014 but hopes to stay beyond that and carve out a long and fulfilling career at the club.
"It was good to re-sign with the club, they're in a building stage and going places," Mansour told Extra Time.
"I love all the boys here, the coaching staff are great, I'm very confident here and I couldn't be happier."
It's understood Mansour's services were being sought after by a number of NRL clubs as well as Japanese rugby, who were willing to pay major Yen for the Penrith prodigy.
However, the former Rabbitoh denied being approached by the Japanese, saying Penrith was the only option he was ever interested in for the immediate future.
"I wanted to stay with Penrith because they gave me the opportunity to prove myself," he said.
"It's always been my dream to make the NRL and I thought I had to repay the favour. I wanted to stay loyal to the club because they've been good to me and I would like to be good back to them."
Mansour said his decision to stick with Penrith was heavily influenced by his spirited teammates and experienced coaching staff.
"I'm very confident around all the boys here, I've got a good bond with them and the chemistry's great," he said.
"I also am very confident and believe in the coaching staff. I believe that the club is going places and over the time I've been here I can see it changing and it's getting better every time."
Mansour's decision to commit with the Panthers for only one extra season puzzled fans who were hoping Penrith's 2012 Rookie of the Year would sign a long-term deal.
Mansour, who debuted in round nine last year, said he wanted some more time to prove himself before inking a multi-year contract with the Panthers.
"I thought one year was very good and the club thought that as well," he said.
"I've got more to prove. I only played 14 games last year, so I'd like to have another strong season, stay fit and healthy."
And hopefully for Penrith fans the best, from the man nicknamed 'Sauce', is yet to come.
Last Sunday against the Raiders, Mansour was physical in defence and ran 173 metres – that was more metres gained than any other player for both sides that day.
He said his goal is to continue to make Penrith's starting squad each week and hopefully, one day, represent his state.
"I'm not jumping the gun just yet but my dream is to make NSW Origin or City Origin, so whatever comes along I'll take it with open arms," Mansour said.
"I'm just going to have a strong season and do my best every game."
For Mansour, after such a strong 2012 season, 2013 was always going to be about proving a point, and avoiding the dreaded second year syndrome.
Based on his opening performance, his second year will only be better than what he gave us in his debut season.