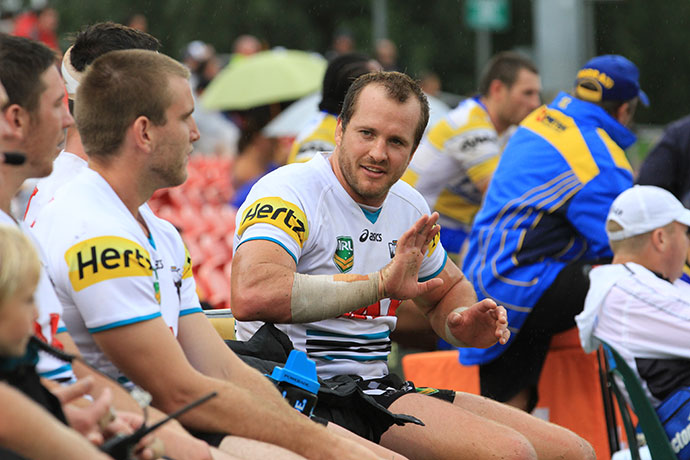 Clint Newton is known to Penrith supporters as the people's champion, and for that very reason he's assigned himself the task of letting all his new teammates know just how important the Panthers club is to the local area.
Speaking with Extra Time, Newton said he's been emphasising to all of Penrith's newest recruits the importance of having a winning culture not only for themselves but for the loyal fans.
"It's important for the players to know this club has a strong support base but those supporters haven't had much to cheer about over the last few years, which is disappointing," he said.
"Penrith has very passionate supporters and obviously we want the players who have come in to learn about what we worked hard on last year and what we're planning for in the future, like creating our own destiny with our own actions."
Newton joined the Panthers from the English Super League last season and has already become a crowd favourite due his positive attitude and strong leadership skills.
However, with new buys Sika Manu and Lewis Brown firmly entrenched into the second row, Newton has found himself in somewhat of a different position this season – coming off the bench.
"I still see it as an extremely important position for the team," he said.
"The time I'm on the field all I have to worry about is doing my job, and making sure what I contribute is going towards us winning. I've always maintained that I'd rather play five minutes in a winning team than 80 minutes in a losing team."
The 140 NRL game veteran said he wasn't concerned playing off the bench and revealed coach Ivan Cleary wanted him, this year, to boost the intensity and morale of the side when he made his way on to the field.
"This is a team game and as I said the role in the team is up to how you want to approach it," he said.
"If you see that (starting from the bench) as a slap in the face then realistically you don't have the team's best interests at heart."
Newton is currently serving the final year of his contract at the Panthers.
"Right now I love competing, love the challenge of playing professional rugby league and I just want my destiny to be in my own hands," he said.
"I'm happy here at Penrith and if I can stay, fantastic. I'm totally aware the game is a business but I want to be the one who makes the decision on my own future."