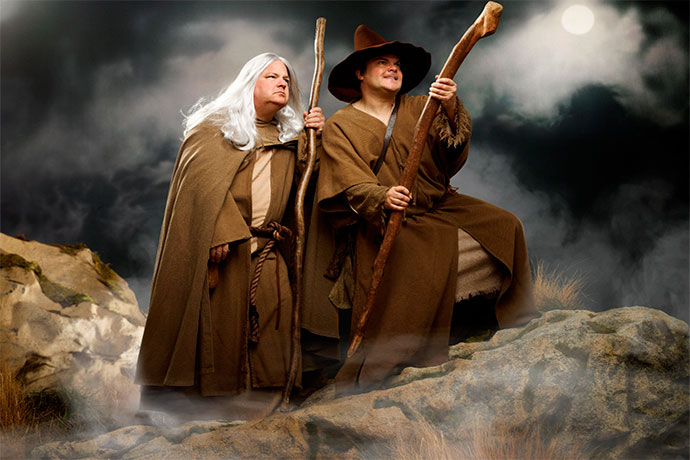 If you like your rock music hard with a sharp, comic edge then brace yourself as Tenacious D is set to visit our shores in May.

The musical duo, formed in 1991, is made up of Hollywood success story Jack Black, famous for his roles in comedy films 'Shallow Hal' and 'School of Rock', and vocalist Kyle Gass.
Although the pair have previously toured down under, this will be their first visit to Australia or New Zealand since 2011 when they were the support act for the Foo Fighters.
They released their third album, 'Rize of the Fenix', last year, which was warmly received by critics and became the highest-selling comedy album in the United States.
It was even nominated for a Grammy Award for Best Comedy Album.
The album showcases the mix of humour and energetic hard-rock that Tenacious D is famous for while also drawing upon diverse musical influences such as folk and progressive rock.
Most of the tracks were recorded with Dave Grohl of the Foo Fighters on drums.
They will be joined in Australia by special guest Barry Morgan, who plays an organ salesman in a show that uses hilarity and music to delight audiences.
Renowned for his appearances on Spicks and Specks, the Marngrook Footy Show and on Gotye's 2012 Australia tour, Barry's brand of comedy is the perfect complement to the main act.
Also making an appearance will be the enigmatic Sasquatch, an "ape-like creature that some people believe inhabits forests" and enjoys shredding guitar solos.
Tenacious D will perform at the Sydney Opera House on Saturday, May 11 at 9pm. Tickets go on sale on Monday, February 25 at 9am.
For bookings or more information, call 9250 7777 or visit www.frontiertouring.com/tenaciousd.