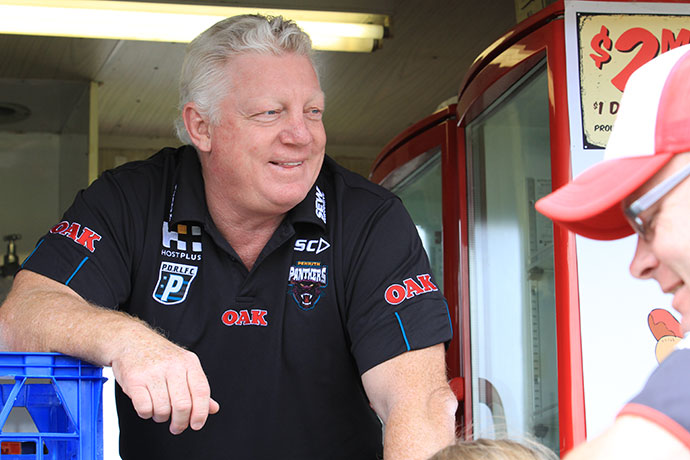 The Penrith Panthers are expected to receive further information today from the Australian Sports Anti-Doping Authority (ASADA) after being named in an Australian Crime Commission (ACC) report into the use of banned substances in sport.
Despite being informed by the National Rugby League last night that they were named in the report, the Panthers are in the dark as to what that actually means and what any allegations may be.
At this stage there is no suggestion of any wrongdoing.
Panthers General Manager of Rugby League, Phil Gould, confirmed to the Weekender last night that the club was named in the report. He was told the news by NRL CEO, David Smith.
"At this stage, that is all the information David was permitted to relay to us. No other details are available at this time," Mr Gould said.
"As we have stated previously, Panthers welcomes the opportunity to assist in any enquiry or investigation and we look forward to a speedy resolution to this matter, both for our club and the code of Rugby League."
With Penrith's opening match against Canberra less than a month away, the club will be eager to ease pressure on its reputation given membership and sponsorship commitments are being finalised.
"We will do our best to keep our Sponsors, Members and fans informed as more details come to hand," he said.
Penrith captain Kevin Kingston told reporters at Sydney Airport, where he was preparing to board a flight for Saturday's trial against the Warriors, that he had "full faith in the club".
"I've never been worried, I've got full faith in our stuff but Penrith is (all about) hard work, that's our only supplement," Kingston said.
"The only think I'm concerned about is having a clean game, the club's taking care of that. I'm getting paid to play, that's my job."
Facing extraordinary pressure, NRL boss Dave Smith fronted a press conference this morning but could offer little more detail on the allegations or if they were significant enough to cause major problems for the code.
He did confirm that clubs would be briefed today by ASADA.
In addition to Penrith, Newcastle, Canberra, Manly, Cronulla and North Queensland have all been named in the ACC report.
Despite today's expected briefing, it is understood clubs will be left further frustrated with ASADA unlikely to name players, and only discuss the "investigation process".