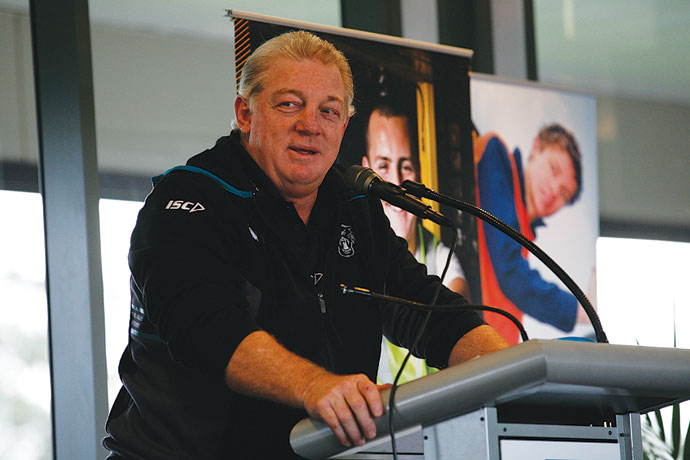 The Penrith Panthers NRL club has tonight confirmed it is amongst those named in an Australian Crime Commission (ACC) report into the use of banned substances in sport.

In a dramatic night in rugby league, Panthers boss Phil Gould confirmed to the Weekender that Penrith was named in the report but said no other details were known at this stage.
There is no suggestion that Penrith has been involved in any wrongdoing at this stage.
Earlier today, the NRL contacted clubs referred to within the Australian Crime Commission's Project Aperio report.
The NRL was today granted formal approval by the ACC to take this step.
"The information that has been passed on to the clubs is simply that they have been referred to within the report," said NRL Chief Executive, Dave Smith.
"The NRL is working with the Australian Sports Anti-Doping Authority (ASADA) who will establish a more detailed briefing with the clubs regarding its investigation.
"We have an opportunity in this instance to make a clear statement about our values by working with the authorities to take every appropriate action.
"It is equally important that everyone is focussed on maintaining a proper process and that represents an important responsibility in terms of what is both said and done."
The NRL does not have authority to name the clubs or confirm the number referred to in the report. However, media outlets have tonight begun contacting clubs, essentially holding a public process of elimination.
Whilst a number of clubs are believed to have been named in the report, Penrith is the first to confirm it is named.
Mr Smith confirmed the NRL's wish to ensure the sport was clean.
"Regardless of the outcome of any investigation, we are already committed to establishing the strongest integrity and compliance unit of any code and we are determined to see Rugby League stronger for having addressed these issues," Mr Smith said.