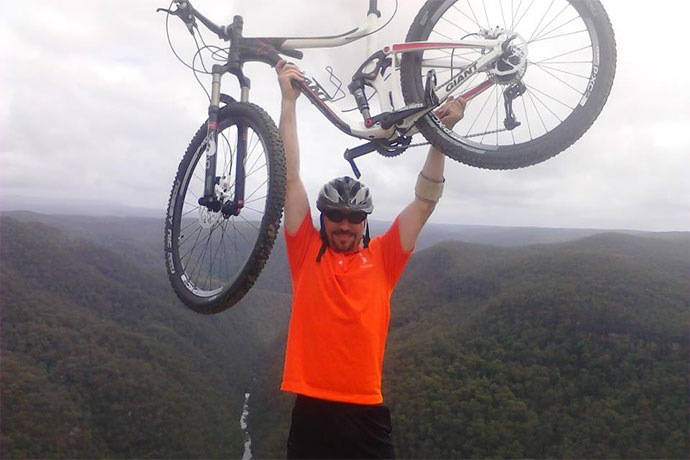 Marc Simone, 43, may have lost his life in a tragic accident last weekend but he has left behind a legacy that will change hundreds of lives.

At around 7.40am on Saturday, February 16, emergency services were called to an incident on the M4 at Emu Plains, where a cyclist had been hit by a vehicle. Sadly, Mr Simone was that cyclist and died from his injuries.
You would be hard pressed to find a person whose heart didn't ache upon hearing about the accident that cost Mr Simone his life, and that is before they knew his story.
Mr Simone was not simply out for a joy ride or as part of an organisation, he was training for a charity ride – one that he had dreamed up on his own, a sign of his passion to help homeless children.
"Marc was the sort of person who, if he set his mind to do something, he would do it. He always lived life to its fullest, he lived his dreams," said one of his closest friends and neighbours, Keith Roberts.
"He wanted to do the ride to Darwin – he thought 'I want to do a bike ride' then he thought 'I want to do it for a cause' – he came up with the idea of raising awareness and money for homeless kids through Mission Australia. That became his cause," Mr Roberts said.
Mr Simone had worked with children throughout his life and was very passionate that "a home without a roof is not a home", the motto he had added to his Everyday Hero fundraising page.
He was so passionate that, to him, the 4,000km ride to Darwin from his home in Winmalee would be nothing compared to the thought of children that live without a loving home.
He wrote on his page that "even one child without a loving home and without basic education is too many in Australia".
Before the tragic accident, Mr Simone had been training for four to six months for the charity ride that he was due to begin in April and although it can't be completed now, his wife, two children, family and friends are determined to find a way to do it in his memory.
"He was a man that followed his dreams, he was very caring and passionate about what he did – he made a commitment, he followed that commitment and now we are going to try to finish that for him," Mr Roberts said.
The initial ride has been postponed but his donation page remains open.
With time, his loved ones are hoping to rally all the support they can get to donate to homeless children whilst raising awareness of cyclists' safety.
"Marc was not just another cyclist riding on the M4 designated breakdown and cycle lane, he was someone that cared with a passion for the less fortunate and wanted to do something about it," Mr Roberts said.
The driver of the vehicle that hit Mr Simone stopped and called police.
Investigations into the crash are continuing.
To join Mr Simone's cause, raising awareness for homeless kids, visit his Everyday Hero page; www.everydayhero.com.au/marcsimone.