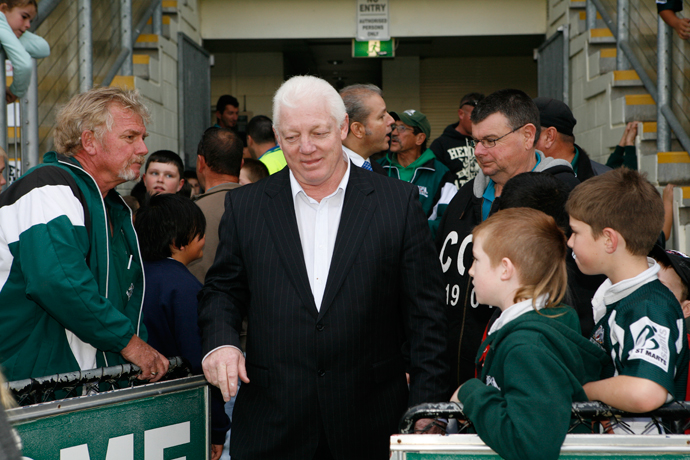 After a week of uncertainty and suspicion, Panthers boss Phil Gould has revealed that the Penrith Panthers are essentially in the clear in the much-hyped drugs in sport scandal.
As scrutiny continues to focus on why such a public press conference regarding the issue was held last week, Mr Gould revealed on Channel Nine last night that no player in the 2013 Panthers squad is under investigation.
It removes a cloud over the club that threatened to harm its reputation leading into the 2013 season.
With a number of National Rugby League (NRL) clubs threatening to launch legal action over last Thursday's bizarre press conference, Mr Gould said the song and dance event was totally unnecessary and provided the first real insight into the club's reference in an Australian Crime Commission (ACC) report into the use of banned substances in sport.
"Penrith's involvement here is so minuscule it's not funny," Mr Gould told Nine.
"I can attest here to all Penrith fans and corporate partners and members that the current playing roster and the current coaching staff at Panthers is not suspected under this investigation… it has nothing to fear," he added.
"The Penrith mention in this investigation goes back over two years to a brief handful of appearances at our club by a person of interest in this and all ASADA want to do is clear that while he was at the club during that time, that nothing untoward has happened."
Mr Gould said that no previous player was suspected of any wrongdoing.
"So we have in my mind a complete (clean) bill of health," he said.
"From a personal perspective to have our club dragged through the mud over the last week in a report… that went on with links to Australian crime, match fixing, drug taking… I found totally unnecessary. I am still trying to find the reason for the press conference, let alone the aggression behind it."
Over the past few days, Mr Gould has all but joined a chorus of discontent over the Government's handling of the situation and its now infamous press conference, which is quickly becoming referred to as the missing episode of 'Seinfeld', given it – on what has been presented so far – has very little evidence to back up the claims made by those who led the show.
"This news conference and the veracity of this news conference resonated around the world," Mr Gould said.
"It tarnished Australia and Australian sport in every country on this planet.
"As the week has gone and I have become more privy to the information that has started this report, there is nothing to back that up from our perspective."
Long-time rugby league broadcaster Ray Hadley, from 2GB, said he was "perplexed" as to why the press conference was held by the ACC and Federal Government ministers Kate Lundy and Jason Clare last week.
"Jason Clare should now be the Minister for misinformation and his deputh should be Kate Lundy," Mr Hadley said on Nine.
"It is beholden on the Government now to back up the words of Jason Clare and Kate Lundy."
Mr Hadley said he felt embarrassed on behalf of NRL CEO, Dave Smith, who attended the press conference after being given a confidential briefing on the issues potentially facing the game.
It was obvious, however, that Mr Smith regretted attending the press conference.
When asked if the situation was a "crisis" for rugby league, Mr Smith told Nine: "I think it's a challenge… I think it is more of a challenge. I think it is a challenge that we can hopefully turn into an opportunity."
He admitted to feeling frustration surrounding the situation, but said rugby league was in the best position it had ever been in.
Mr Hadley said it was a "disgrace" that all rugby league players had been tarnished, and said those responsible needed to be held accountable.