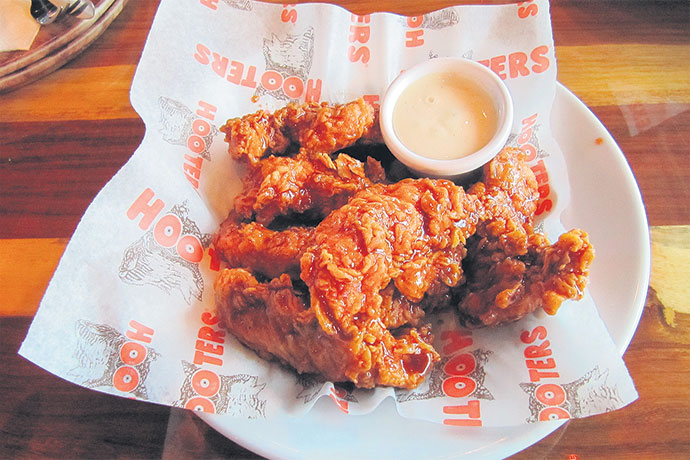 From the moment you walk in the door and hear "Hello, welcome to Hooters!" you know you're in the coolest place in town.
In fact, there's no other place in Penrith that is quite like this American-born franchise. I dined at the Mulgoa Road restaurant on a Monday evening, when I must say the place is a lot quieter compared to the (many) other times I have visited.
For our appetizers or Hooterstizers as they are known, my dining partner and I were treated to a plate of fried pickles and their world-famous chicken strips. I must say the fried pickles are an acquired taste but are the perfect starter for anyone who loves to leave the pickle on their burger. They are served with a creamy, tangy sauce and are very addictive. Portions are generous, which makes it a great appetizer to share with a group.
Hooters are famous around the world for their chicken – hands down they do it the best. A trip to Hooters wouldn't be complete without trying their juicy, crispy, boneless chicken strips coated to perfection in one of their seven different sauces. I recommend trying the BBQ sauce version with a side of ranch sauce – absolutely incredible, they melt in your mouth.
When it came to choosing a main I couldn't go past the enormous but delicious Nacho Burger. This tall treat literally tasted like a handful of Mexican nachos with each bite.
Along with the delicious beef patty and toasted bun was every nacho topping imaginable – minced beef, guacamole, cheese, lettuce, salsa, sour cream, tomato, beans and even a corn chip – this burger was unbelievably good.
My dining partner sunk her teeth into 10 succulent steamed shrimp served with a spicy cocktail-style sauce and lemon. She topped off her dish with a freshly made Caesar salad which featured crispy bacon and croutons.
After stuffing ourselves silly with our Hooterstizers and mains, we finally got to dessert and boy oh boy was it worth leaving room in our stomachs for.
The triple chocolate mousse cake with fresh cream and drizzled in chocolate sauce was out of this world. Layered with rich milk, dark and white chocolate mousse, this dessert was the perfect way to end our night.
The service we received was excellent and the bedazzling waitresses who every half hour perform the Hooters dance are great entertainment.
Hooters Penrith is more than a restaurant – it's an experience… and one you'll never forget. Hooters is located 261 Mulgoa Road, Penrith. For bookings call 4733 5428 or visit www.hootersaustralia.com.