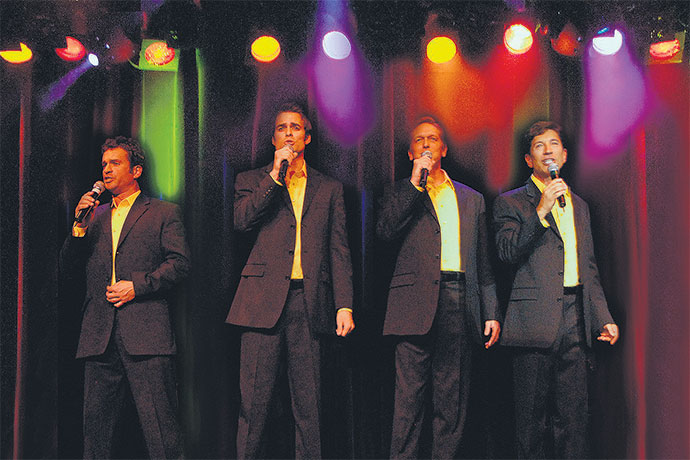 Paul Holmquist is more than talented. As a singer, dancer and performer, he has choreographed one of the most exciting musical revues going around – 'Oh What a Night', a tribute to Frankie Valli and the Four Seasons.

While 'Jersey Boys' was a scripted musical biography of the Rock and Roll Hall of Famers, 'Oh What a Night' is a concert and musical tribute that will have you up singing and dancing to classic hits like 'Sherry', 'Big Girls Don't Cry' and 'Can't Take My Eyes Off You'.
But the success of the show, which has already sold out an incredible 54 performances in Australia, has its roots in the success of its acclaimed choreographer, Paul.
From early on Paul knew that he wanted to be in show business, performing for audiences across the globe.
"Singing and dancing was always a part of my childhood. At five-years-old I started singing in the church choir, but it wasn't until my mid teens that I took up dancing. Everything in my house when I was growing up was always about music, music, music," he said.
"The first time my mother introduced me to Fred Astaire movies on TV I was so fascinated that I one day just said, 'I want to learn how to dance' and that's when my focus started shifting to singing and dancing.
"Fred Astaire was my number one influence and I would have to say Danny Kaye was also big, so I guess they really helped me find what I love."
But it wasn't until Paul's family moved from a small town in Indiana to Los Angeles that his professional career in dancing really gained momentum – performing professionally at Disneyland.
"It really was a dream come true," he said.
He started to explore dance choreography in his mid 20's and has since appeared in and choreographed some of the most famous musicals of all time including, 'The Pirates of Penzance', 'Les Miserables' and 'A Chorus Line'.
"I was lucky enough to be in the west coast premiere of 'Me And My Girl' and 'That's My Dolly', so I would have to say that those are my two favourite," Paul said.
But Paul says that 'Oh What a Night' has definitely been his biggest achievement to date.
"'Oh What A Night' has been the biggest highlight of my career so far. I get to travel the world with my band mates who are like my brothers – it's extraordinary, it's everything I imagined and more," Paul said.
"I am thrilled and amazed beyond belief that this production has turned out to be a success, I really can't believe where I am."
But Paul's achievement has not come without plenty of hard work.
'Oh What a Night', which explores 30 songs from Frankie Valli and the Four Seasons, is a high energy performance with complicated yet unforgetable choreography.
"It probably took me a month to compose the dance movements all together. I would lock myself in my studio, in my dungeon and turn off the lights and listen to a song over and over with my eyes closed until I sort of had a picture of how I wanted that number to look, it's a process," Paul said.
"The show is amazing, the music has that universal appeal that is undeniably classic."
Having performed in 'Oh What a Night' for nearly five years now, Paul has no plans to stop or have a break.
"The music is so fun, that's what drew me to the role in the first place. I'm motivated to do the show because it's a blast every time the four of us go on stage, it's just fresh and new and after five years I'm still not tired of it," he said.
"'Oh What A Night' challenged me entirely, you need to know the moves and you need to sing at the same time. After all these years of being on stage you can't help to grow, learn and mature as a performer."
You will love all the classics performed in 'Oh What A Night', but for Paul there is one song that is particularly outstanding.
"My favourite Frankie Valli song to perform is called 'Silence is Golden' and it's a beautiful song because it is one of two out of the repertoire that we sing Acapella. It just really is the most magical moment in the show."
To see this amazing tribute concert, 'Oh What a Night' will be showing at Blacktown Workers Club on Saturday, February 16.