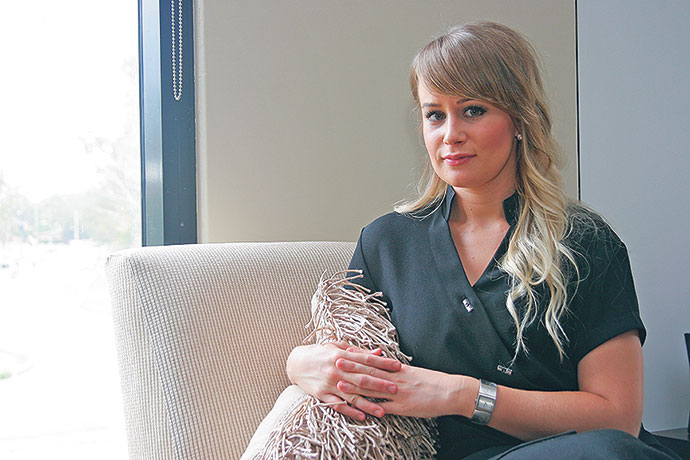 Hickeys Lane is a hot spot for bushfires as shown last week when Fire and Rescue NSW crews were called to the site between Kingswood and North Penrith twice in two days to extinguish blazes.

Fire crews were first called to a fire at the reserve on Thursday, January 17 and proceeded to put out the fire, however, the following day, when temperatures reached a record 46.5 degrees Celsius, the fire re-ignited and some businesses in Lambridge Place had to be evacuated as a precaution.
A normally peaceful and grassy reserve stretching between Andrews Road and Coombes Drive, fire crews say that Hickeys Lane unfortunately attracts the attention of arsonists because it is a pedestrian thoroughfare to neighbouring suburbs.
"We get a really big burn at Hickeys Lane like last week's every two to three years but we are called to smaller fires there because a lot of kids walk through the area and start fires in the scrub," explained Regentville Station Commander A Platoon, Phil Nightingale.
"99 per cent of the time it seems that the fires at Hickeys Lane are the work of kids – we even have a bit of a joke here that come 3.30pm when they are walking home from school that it is time to get ready to go out," he said.
Mr Nightingale said that the RFS and Fire and Rescue NSW do a lot of work in the community to try to educate teenagers about the dangers of lighting fires.
"We do a lot of educational work in the community and for most people the message gets through but there are always a few who ignore it," he said.
Penrith Police believe that the fire last Thursday at Hickeys Lane was started by a person and are investigating the incident.
For local business owners like Jaymi Caldwell, who runs a successful hairdressing salon, Natural Beauty Bar, in Coombes Drive, it is disappointing that people would resort to such dangerous behaviour and put others in the community at risk.
"I was working back late with clients on Thursday afternoon, night when the first fire broke out. When one of my clients arrived, I was told of a large fire on Andrews Road, at the back of Hickeys Lane," she said.
"I was obviously inside my salon most of the time and had only heard a couple of sirens. We went out to inspect the commotion and I could clearly see from the fence at the back of my complex a lot of smoke and quite a large fire!
"The fire actually reignited during the heat on Friday which was quite frightening, as it happened fast! Again, there were numerous Fire Engines and Police patrolling the area. The fire fighters seemed to have everything under control and done an amazing job to extinguish the blaze.
"I work hard for what I have and it upsets me to think that people deliberately light fires to damage other peoples properties! Most arsonists have no remorse for what they do either which makes it all the more worrying to know that they are out there in our community."
Mr Nightingale said that unfortunately, there are not many options available to the community to stop arsonists from lighting fires in Hickeys Lane.
"There's not a lot you can do – kids will be kids and all we can really do is educate them. We are lucky that we have good access there so there should never be any real problems there and when there is a fire we let the area burn out so that it has the same effect as conducting a hazard reduction burn," he said.
Ms Caldwell said that she would like to see the area maintained by Council but not completely cleared.